Whether you enjoy cooking or you are in the midst of home improvements, you undoubtedly want your kitchen to look spotless and bright. One of the best ways to help your kitchen stand out and provide you with that fresh and inviting atmosphere is to make it white.
Dark stained wood cabinets were once very popular and while wooden floors and cupboards may remain a trend in interior decor for living rooms or dens, most people who spend time in their kitchen prefer the fresh feel of bright decor and cabinets in the kitchen.
Check Out The Best White Kitchen Cabinet Design Ideas for 2017
Many people love light kitchens as light feels clean. White also helps small spaces to appear bigger, which is always a plus when it comes to small kitchens.
If you are looking for a hot kitchen look that will stand the test of time, white kitchen cabinets can do no wrong. This look has been around for many years and appeals to a variety of home owners and interior decorators."
Even when you see pictures of cabinets that are white, you can appreciate the brightness and clean look. Following are some excellent kitchen ideas for anyone who wants to update their kitchen or who is planning their new home:
1. Cottage Kitchen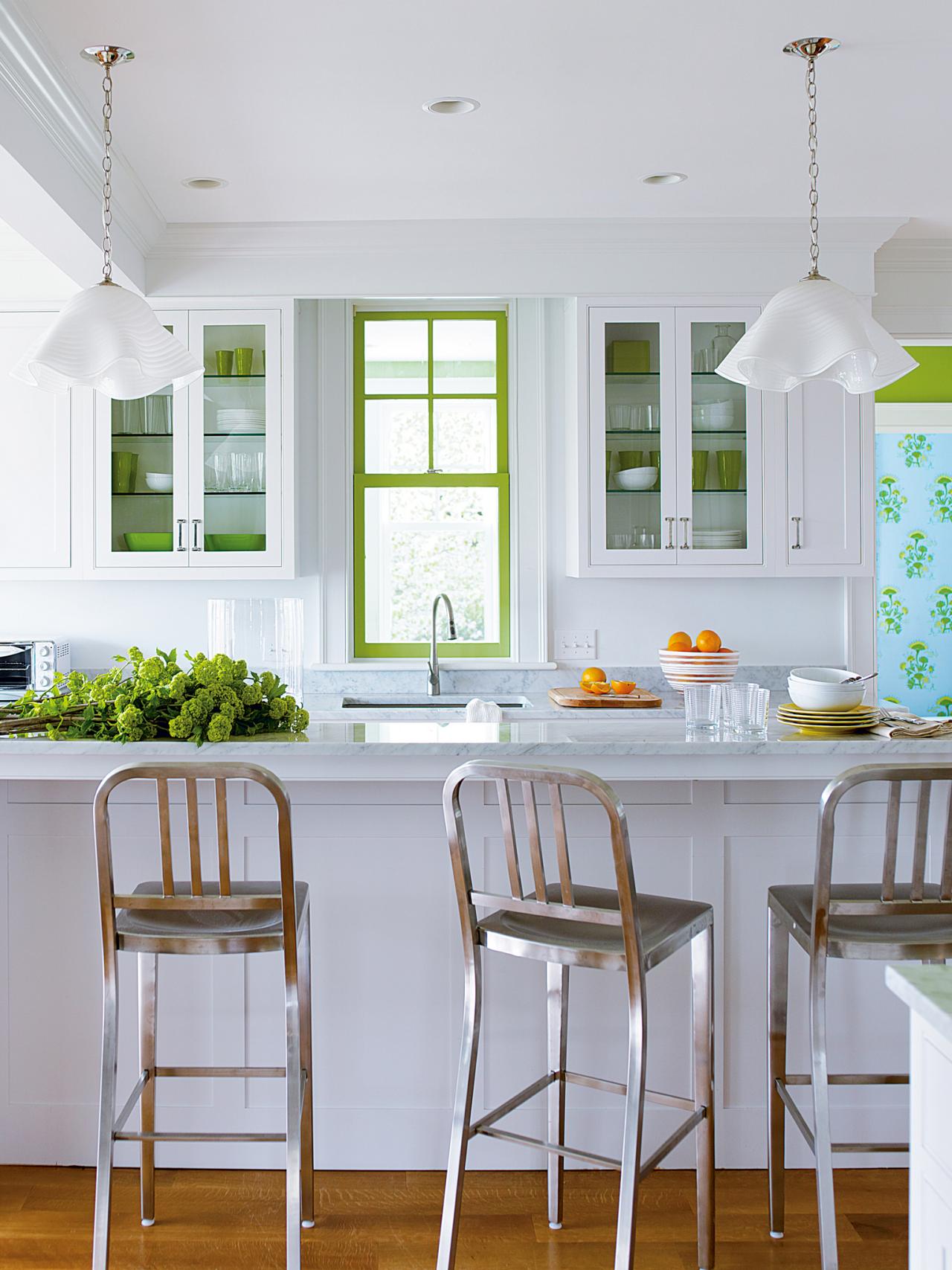 This cottage kitchen is both inviting and cozy with its glass-windowed cabinets with white trim and the touch of floral wallpaper. The green trim around the conveniently placed kitchen window and matching decor, dishes, and extra pops of color add a touch of contemporary to an otherwise simple kitchen. Also notice the hanging lights with white shades that help to modernize the look.
The stainless steel bar stools stand out while somehow blending in effortlessly adding a perfect juxtaposition to the kitchen. This kitchen proves that different styles combined perfectly can make an outstanding statement and that adding touches of color to kitchens with white cabinets is an excellent idea.
2. A Breath of Fresh Air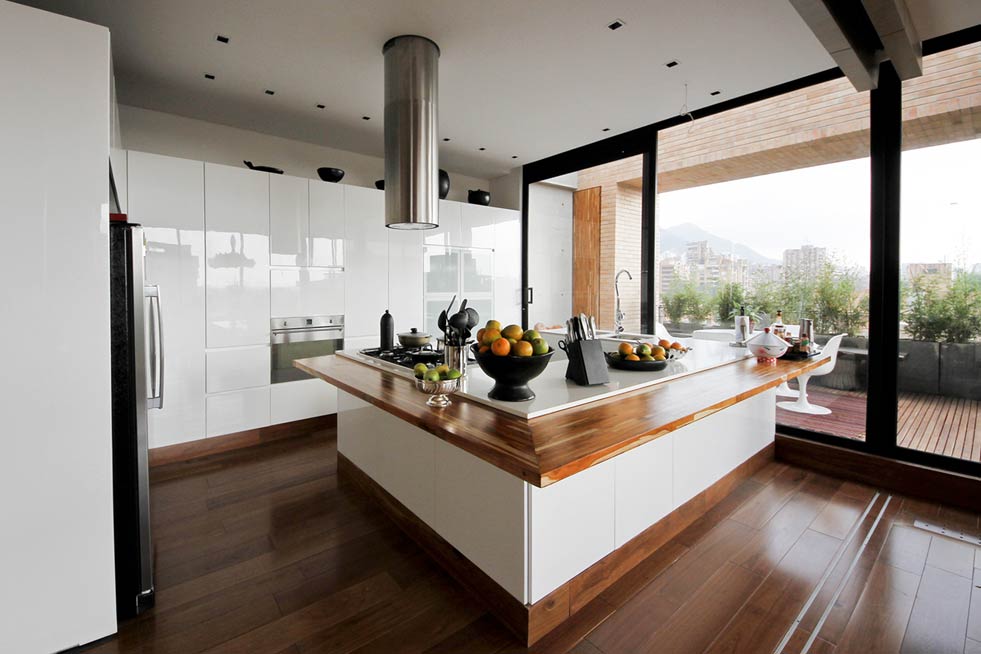 For some people, walking into their kitchen is relaxing. The thought of preparing a delicious meal while sipping on wine and listening to good music is almost therapeutic. Add these components into an elegantly beautiful kitchen and why would you ever want to eat out? This stained wood kitchen with sleek cabinets is both beautiful and functional.
The high cabinets make it look more spacious than it is, making it the perfect location for a night-in of cooking. Where wooden cabinets would be over-kill in this hardwood beauty, the kitchen storage cabinets combine expertly to make this kitchen a near perfect environment for cooking.
3. Get Cozy in Santa Monica with White Kitchen Cabinets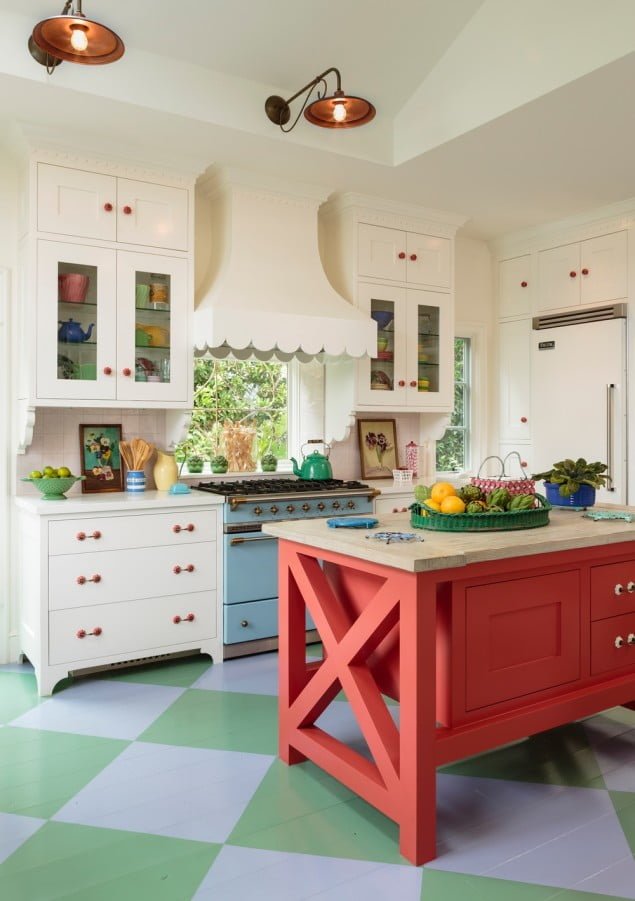 This country kitchen is any home maker's dream. With its unique combination of the red "barn" style island and attractive cabinets with cute red handles, this cozy kitchen is aesthetically beautiful and inviting. You can almost smell the egg and bacon breakfast being cooked as the sun rises.
With its detailed designs and farm home theme perfectly nailed, this Santa Monica kitchen shows that white can be used in any style of home and kitchen and still look good. Where darker cabinets would clash with the green and blue tiled floors, the cabinets allow the floor to blend delicately with the other colors in the kitchen.
4. Bohemian Cooking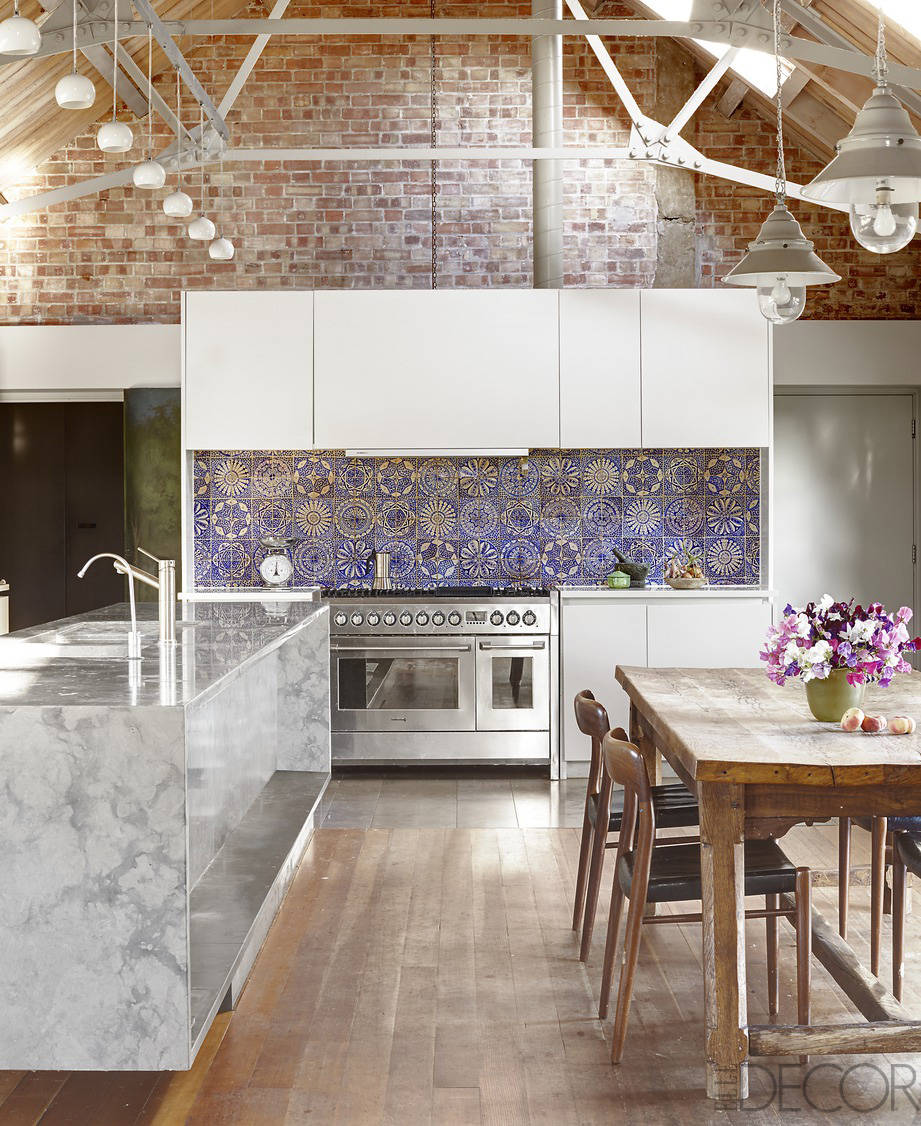 This kitchen not only provides an excellent atmosphere for cooking, but the beautiful wooden kitchen table invites you to sit and enjoy a delicious breakfast. From the high ceiling with hanging lights to the intricate tiles behind the stove, everything about this kitchen is a statement to the designer's handiwork.
Kitchen design ideas vary, but this kitchen with its perfectly placed cabinets is one that deserves some type of award for originality and beauty. Who knew that marble, brick, white kitchen cabinets, and hardwood floors would combine so elegantly to make the ideal kitchen for any modern home?
5. Get Back to the Future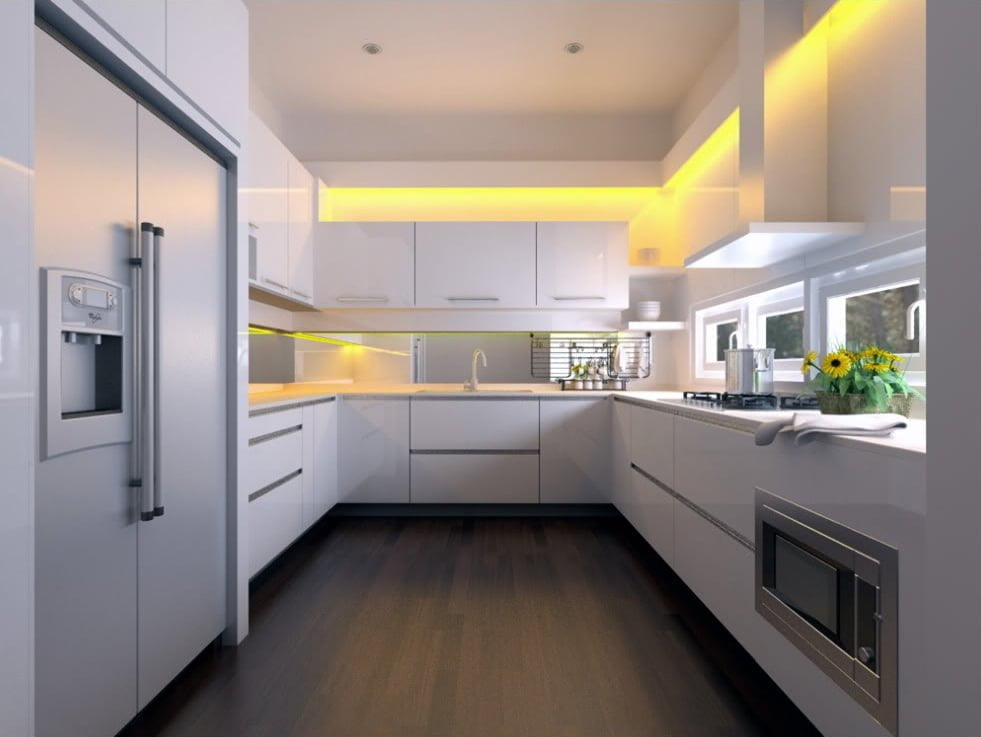 This sleek and squeaky clean kitchen makes you feel like any meal is possible. It's ideally placed lights provide it with a futuristic feel as they play off the purely white cabinets. This is the perfect kitchen for anyone who likes minimalism and who wants a functional and clean space for their times of cooking.
If you're a no-fuss, "I get things done" type of person, this kitchen is made for you. This kitchen exudes elegance and provides any home owner with a classic look that will never go out of style, even in the future.
6. Victorian Beauty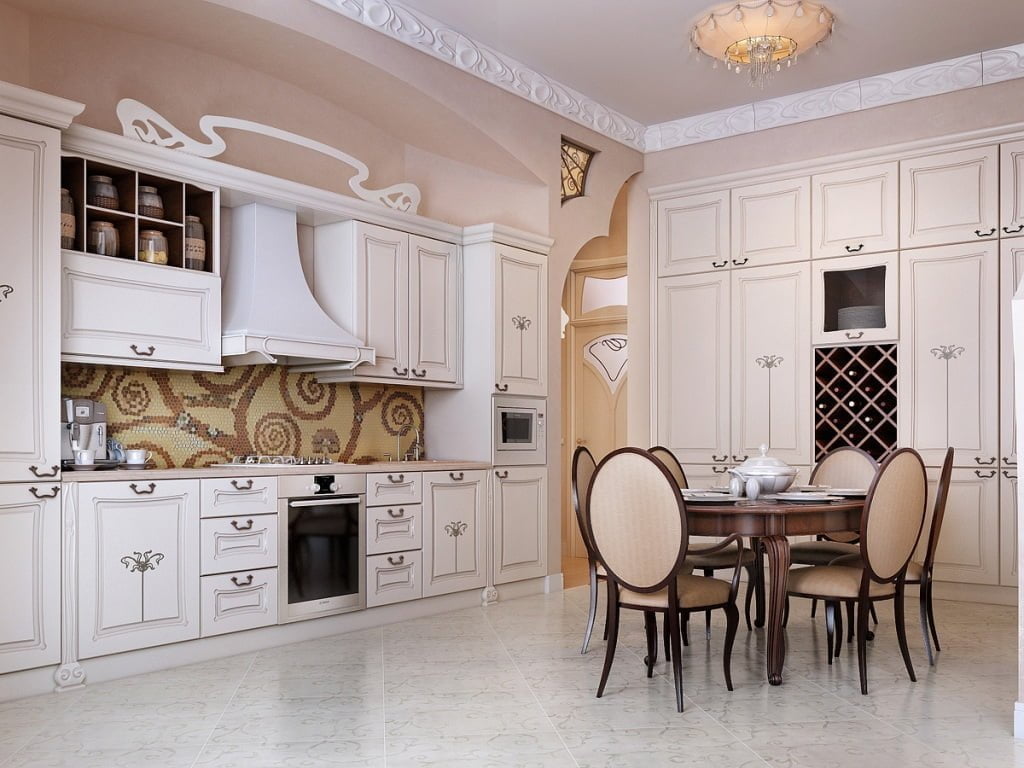 White cabinets in this stylish and detailed kitchen help to provide a contrast to the primarily creamy and peach colors. This shows the beneficial touch that white can add to any home's kitchen.
This "Jane Austen" style kitchen is both cozy and elegant. The white trim bordering the ceiling with detail is another eye-catching design in this simple yet attractive kitchen. What really helps the kitchen to stand out is the artistic tile design which modernizes this classy look.
7. Let's Go Retro in a White Kitchen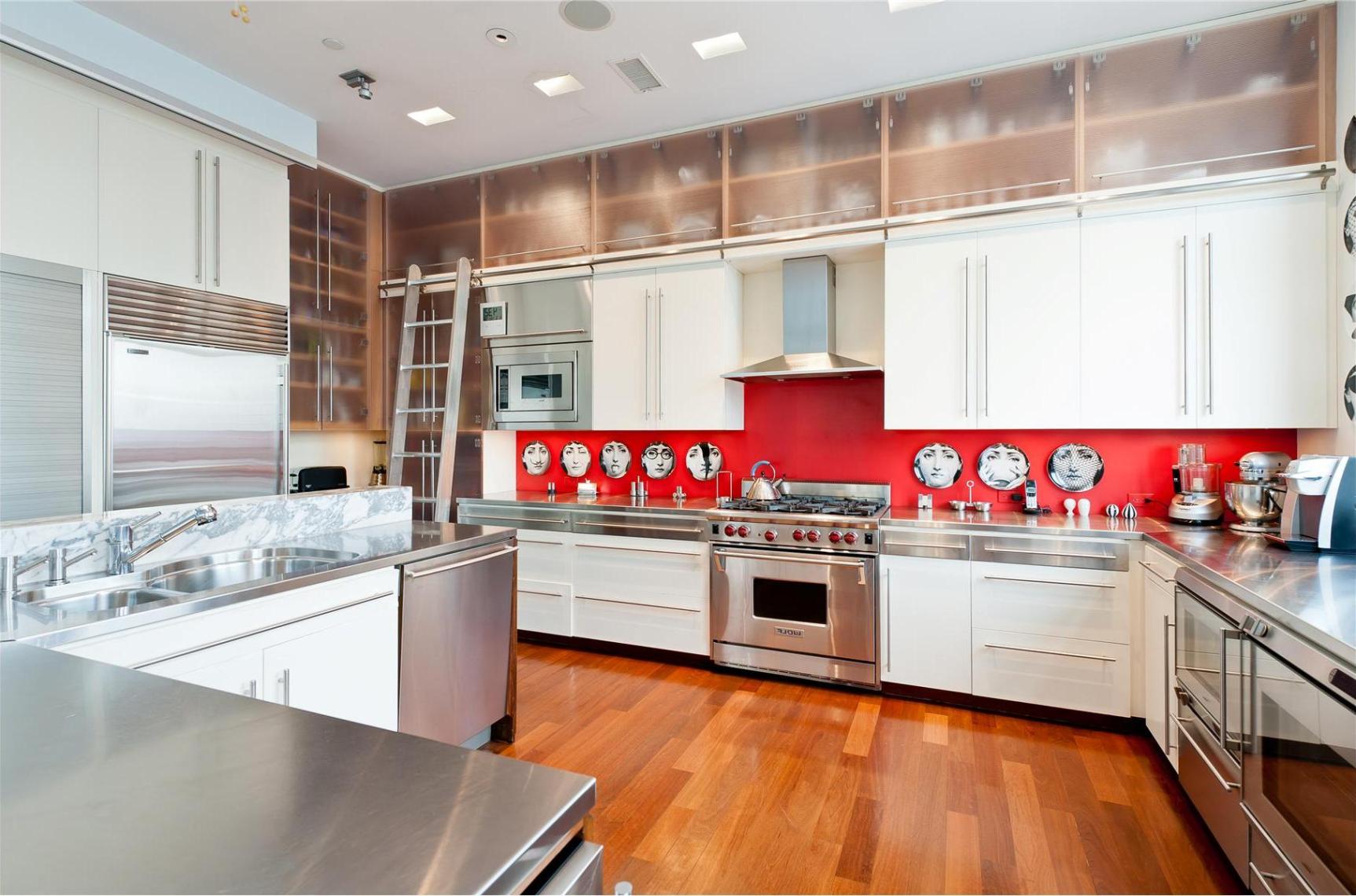 This retro kitchen could seem to have too much going on, but instead of a design idea gone wrong, the light cabinets make sure the look stays on point. This is the kind of kitchen were anything goes. Its youthful feel is perfect for any home that likes to keep things alive. While most kitchens don't need a ladder to reach the dishes, this kitchen makes it look like it fits right in.
Whether you like to cook exotic meals, host fun dinner parties, or simply stepping out of the box in your home's interior and kitchen decoration, this bright kitchen with its equalizing cabinets will make sure you always stay the life of the dinner party, even if its just a dinner for one.
8. Contemporary Goodness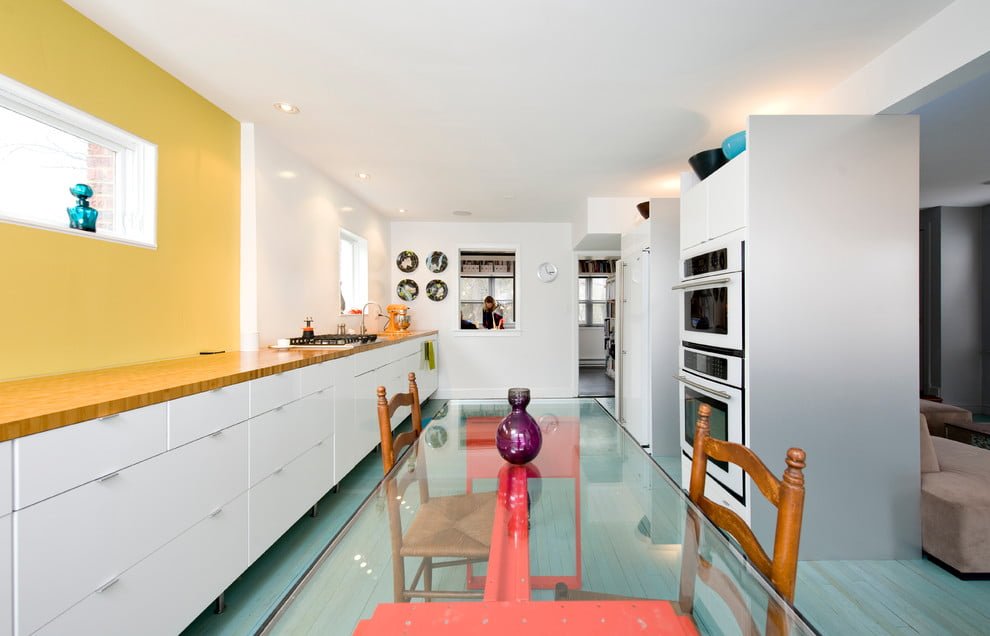 One of the things that makes light cabinets so convenient is that no matter what color the walls are painted or what color your decorations are, the kitchen will never look cluttered or haphazardly decorated. The cabinets in this kitchen offset the painted wall and the teal colored floor in such a way that everything pulls together in a classy contemporary look.
You can't deny that white kitchen cabinets open up a space like no other color, which makes it one of the best home decoration trends for kitchens today. This kitchen is somewhat narrow, but the white storage cabinets give the illusion of a spacious place for a delightful time cooking and eating.
9. Copper Looking Classy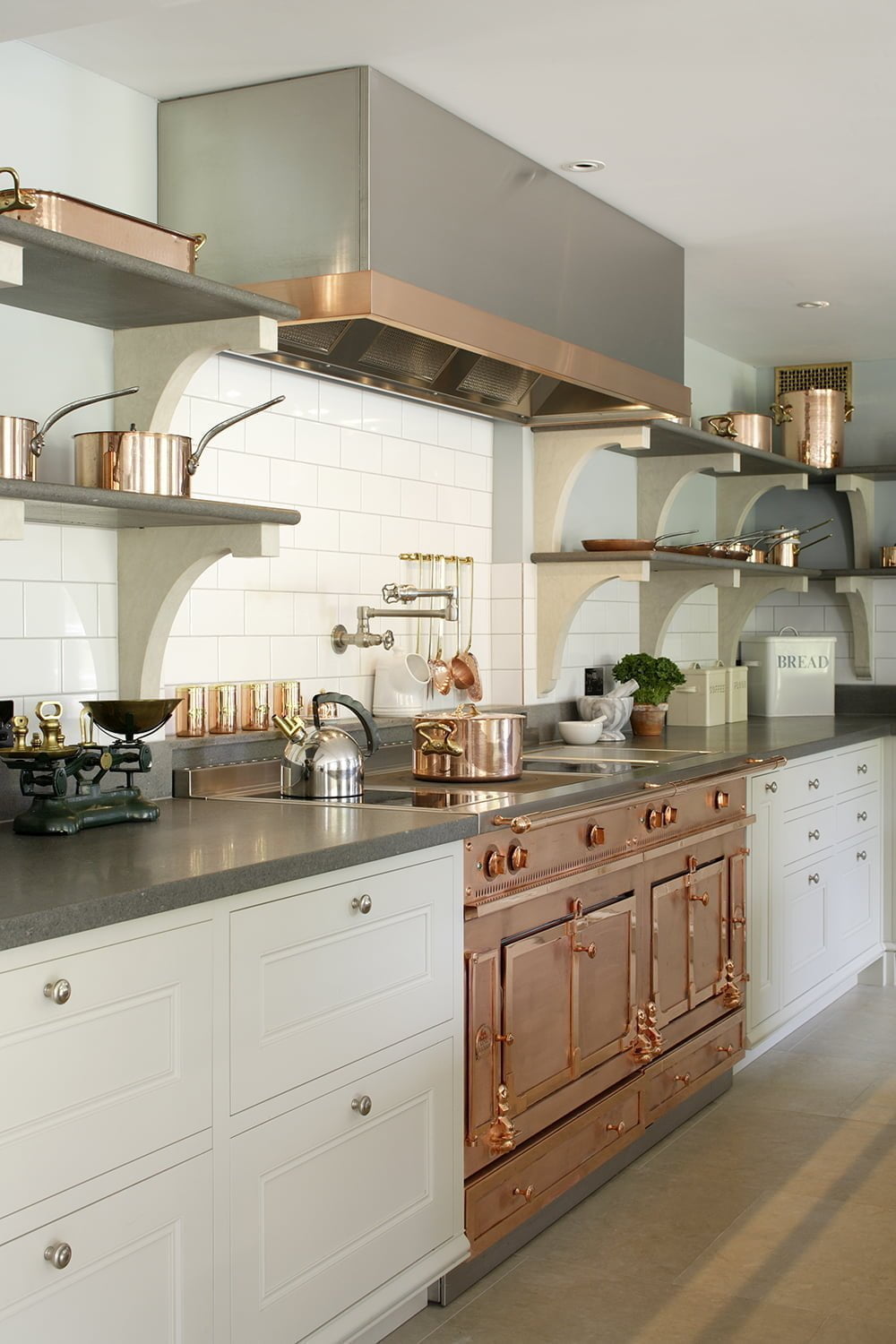 If you ever thought copper wasn't what classy kitchens were made of, think again. This kitchen breaks preconceived ideas about what works in home kitchen decor and proves that light cabinets can make any material look elegant. From the copper rim around the exhaust fan to the oven doors, the surrounding cabinets provide the home with an effortlessly stylish look that is both inviting and unique.
Kitchen ideas like this one are what keep white kitchen cabinets in style.
10. Smaller Is Better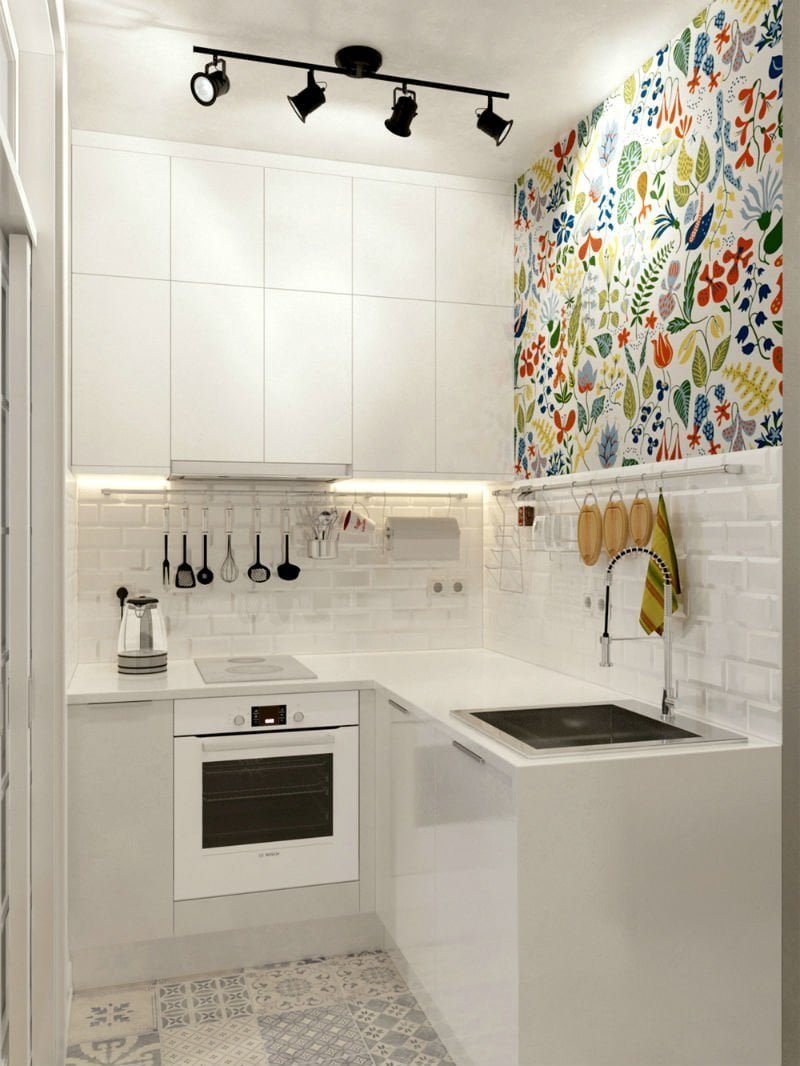 Where many people contest that bigger is better when it comes to kitchens, this classy kitchen proves that cooking can still be fun even in this mini-sized space. With its colorful detail above the sink, this kitchen uses color to combine expertly with white counter tops and walls to open up a small pace.
This kitchen looks classy and clean and is an ideal style for a single's home or an individual with minimalist tastes in decor. The artistic detail brings this small space to life.
11. A Piece of Heaven On Earth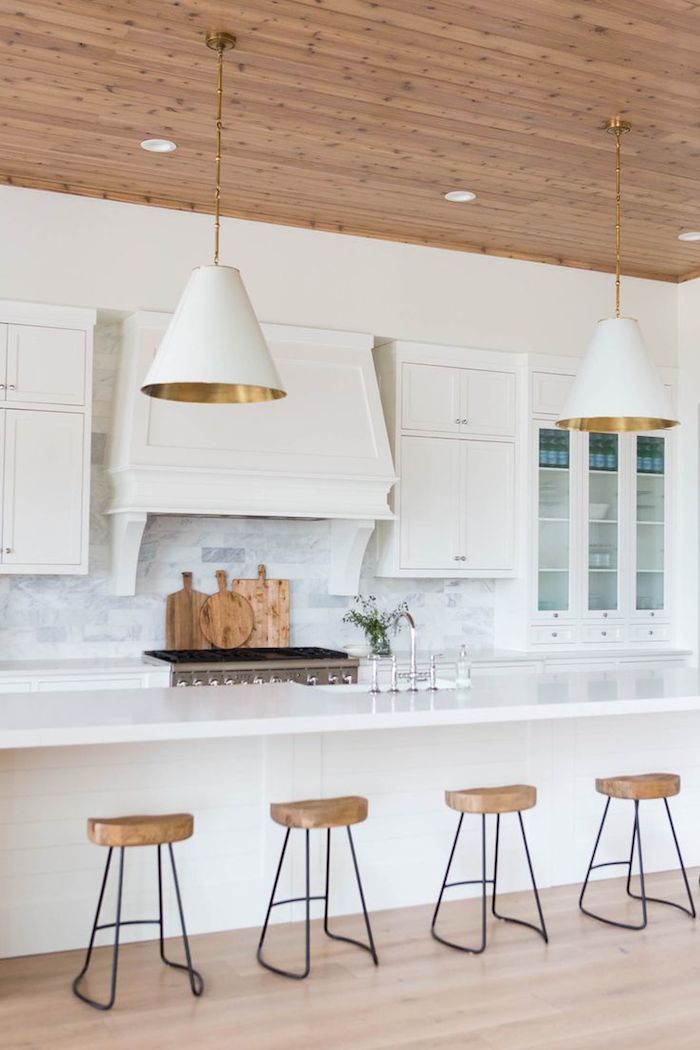 This gorgeous kitchen is what most home cooks would pay big money for. With beautifully matching wooden floors, ceiling, and stools in contrast with white counters and cabinets, this gorgeous kitchen provides a home owner with a classic kitchen that feels bright and that will remain timeless if you ever choose to sell your home.
This kitchen provides any "home chef" with plenty of work space and lighting for an enjoyable cooking experience. White is what its all about in the kitchen fashion world and this kitchen is one great example of how to do a kitchen with white cabinets.
12. Say Yes to Bright Kitchen Cabinets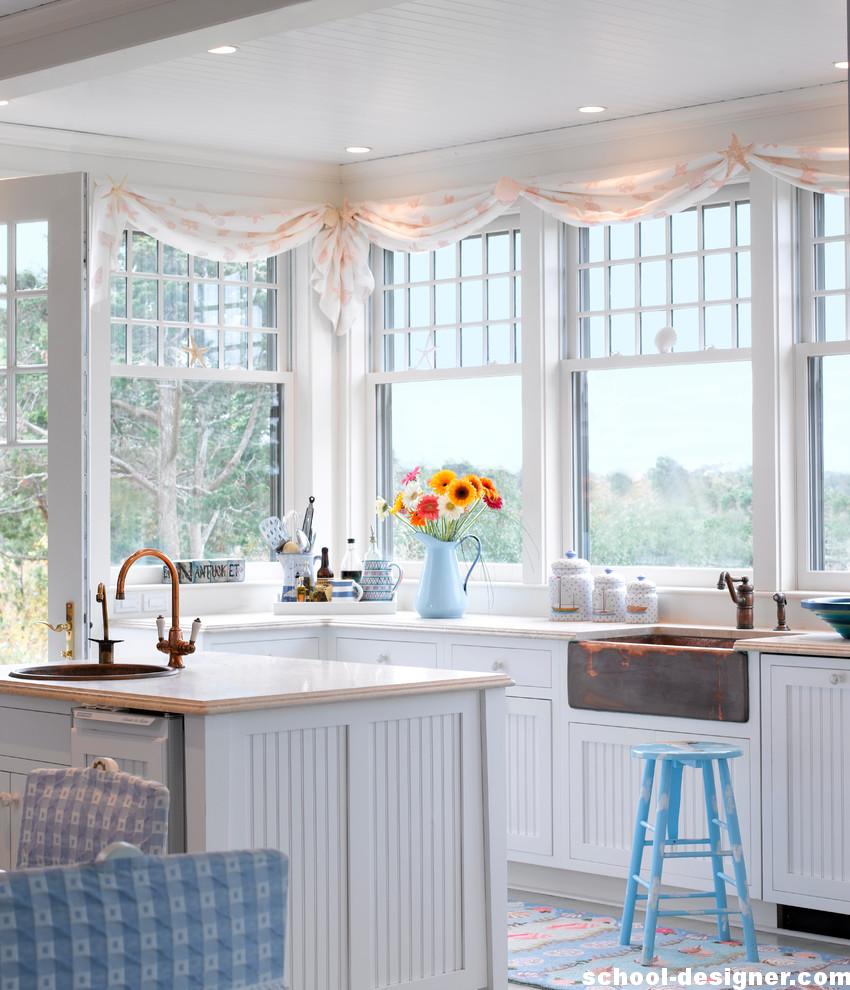 Everything about this kitchen screams "Yes!" From the large windows and the white cabinets, bright and cheery is the first description that comes to mind. What really adds a delightful touch to this already gorgeous kitchen are the light colored curtains. While a sky blue curtain could pull together with the blue stool in this kitchen, these delicately draped curtains add to the airy ambiance of the room.
The abundance of light and the the pops of blue throughout the kitchen make this kitchen an attractive kitchen decor idea.
13. A White Home with Children?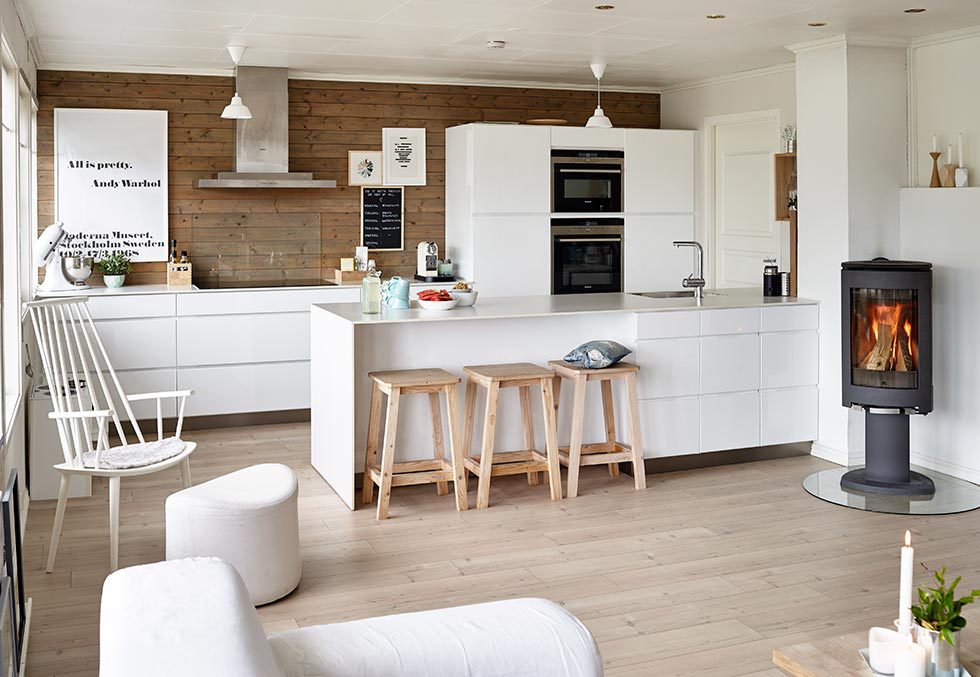 If you have children, you may be wondering how the latest trend of white in home decor would work with your little ones. The answer is that it most definitely can. This kitchen has white incorporated into it with easy to clean surfaces. The key in having white decor or cabinets is the material used when it comes to installing it in a home with children.
A detail in this kitchen that is both eye catching and unique is the Andy Warhol quote on the wall. It not only pulls together with the rest of the white in the kitchen, but adds style to the space.
14. Industrial Can Be Pretty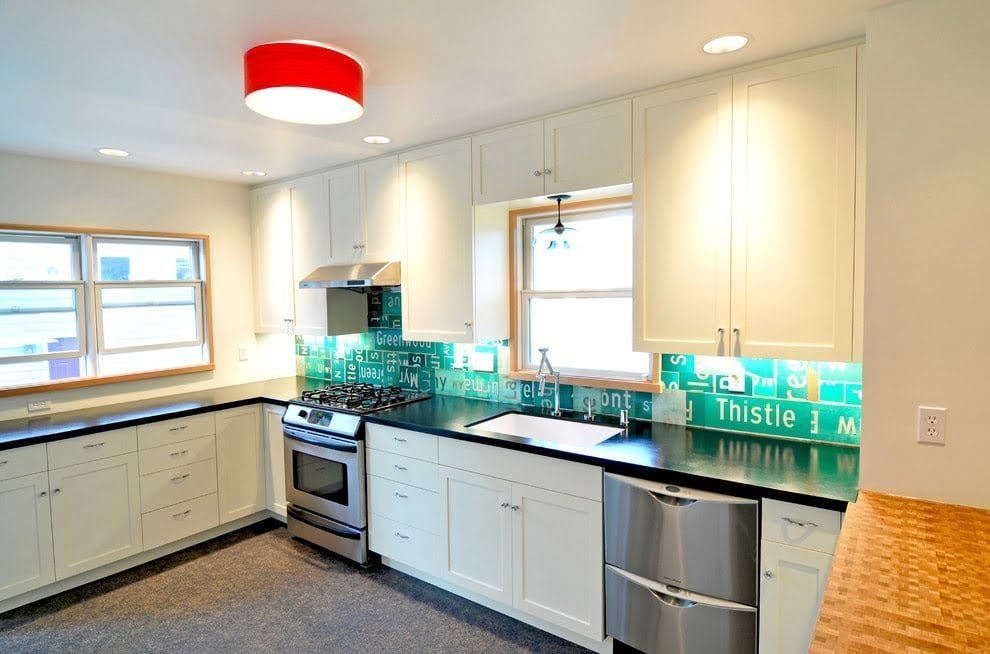 One of the best things about cabinets that are white or light cream is that you can add almost any type of tile or color and create a beautiful effect. The turquoise against the white with the red light shade adds life and playfulness to this industrial kitchen and makes it a much more inviting place to be.
White colored cabinets allow more personality to come out in the kitchen as this kitchen proves. The metro stop tiles add a modern and unique touch to an otherwise plain kitchen. Kitchens with white installations are an excellent idea for anyone who wants to add extra detail and home decoration.
15. Relax While You Cook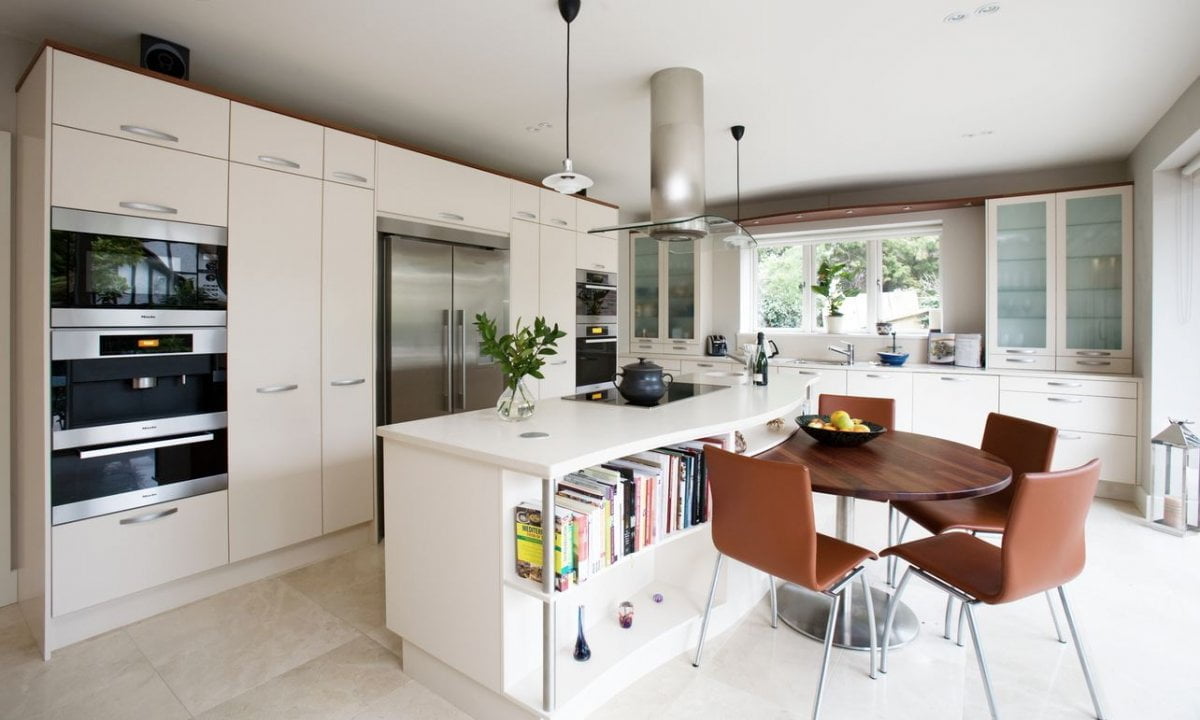 This kitchen breathes relaxation. While cooking for your family or guests can turn into a stressful experience at times, this is one of those kitchens with white cabinets that offers a relaxing environment. From the books on the book shelf to the neutrality of the cabinets, this is a kitchen that would fit in in almost any home.
Not every kitchen needs fancy tile or eye-catching decor. This kitchen boasts simplicity and functionality which is perfect for people who like their spaces clean and spacious. The plus to this plain yet highly functional kitchen is that it is an easily sellable kitchen, should you ever want to sell your home.
16. Color Your World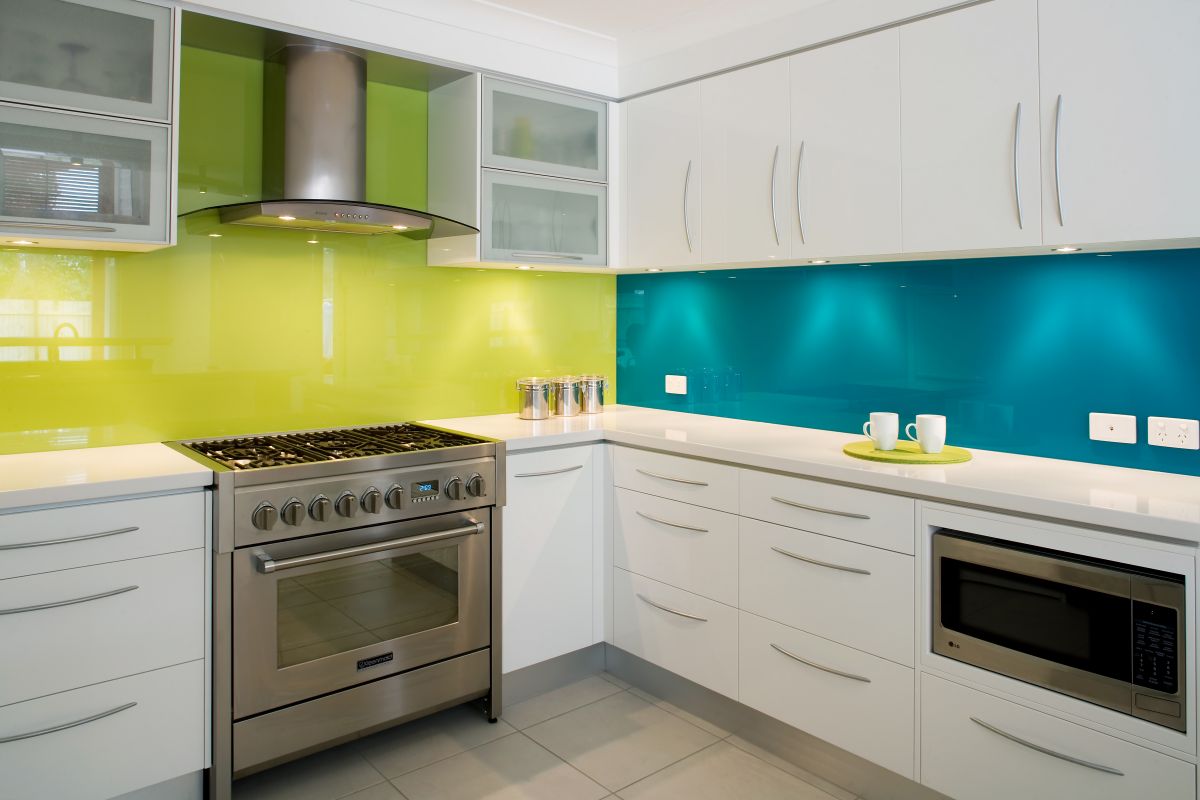 This kitchen inspires creativity in the kitchen. The smooth and contrasting colors in the background with accenting lights combine perfectly with the white making this an aesthetically pleasing kitchen to be in. From the long handles on the kitchen storage cabinets to the color combinations and metallic oven and microwave, this is one of those kitchens that makes you admire the ingenuity of people who come up with kitchen design ideas.
If you have a kitchen with white storage cabinets, consider adding color back splash walls to liven up and add style to your home. This is one of those pictures of kitchen cabinets that makes you want to always use white in your kitchen.
17. Dress Me in Light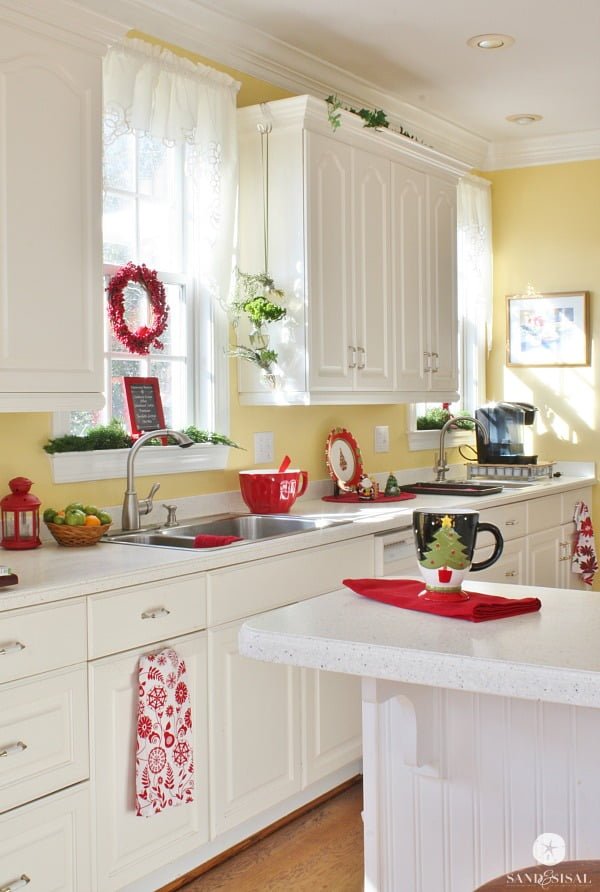 This kitchen proves that cozy can be stylish. It's the type of kitchen that you can imagine spending hours in preparing holiday meals or baking cookies with the family. The kitchen cabinets with the light yellow background allow the natural light coming through the windows to enhance the bright feel to this kitchen.
While the decor in this picture is Holiday related, the pops of color add life and a cheer to this kitchen and is an excellent portrayal of quality kitchen ideas. This kitchen proves that cozy and warm can still be stylish and inviting.
18. A Walk in the Clouds White Kitchen Cabinet Idea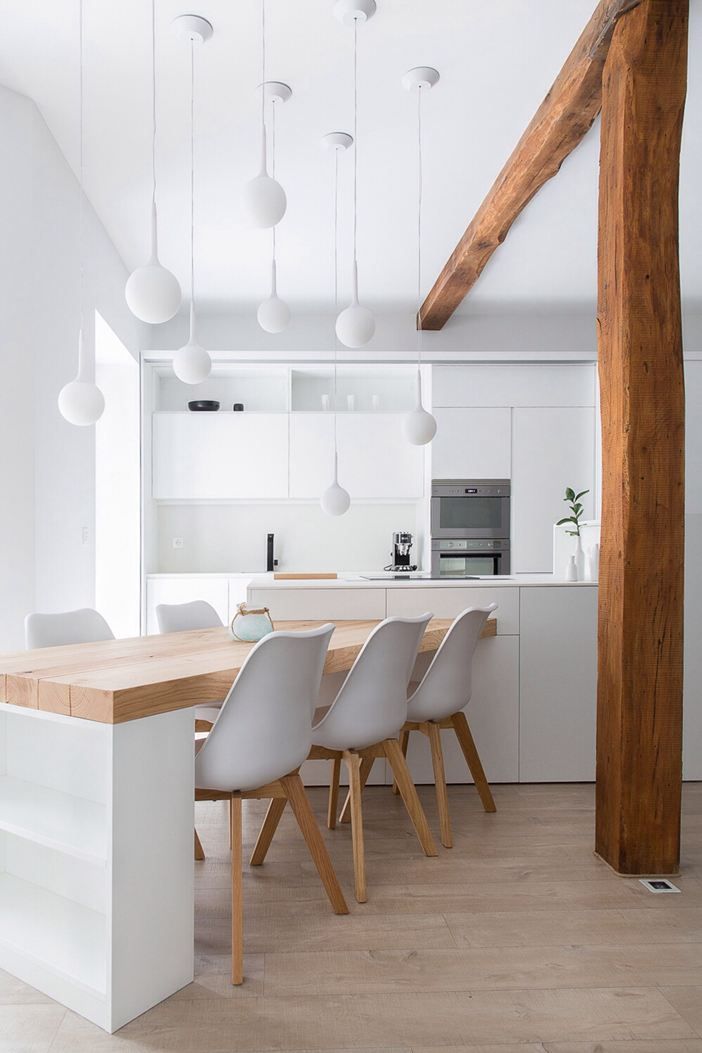 If you love the idea of fresh and breezy, you would love a kitchen like this one. This kitchen offers authenticity and style while keeping it cool. The white bubble hanging lights, the kitchen cabinets, the wooden beams, and the beautiful attached table combine to make an unique yet gorgeous space in this home. It's an excellent use of space and the white allows the kitchen to appear more spacious than it really is.
This kitchen design is the ideal kitchen idea for anyone who wants to do something outside of the box, its functional yet quirky with style and class, making it an other worldly look.
19. Follow the Rabbit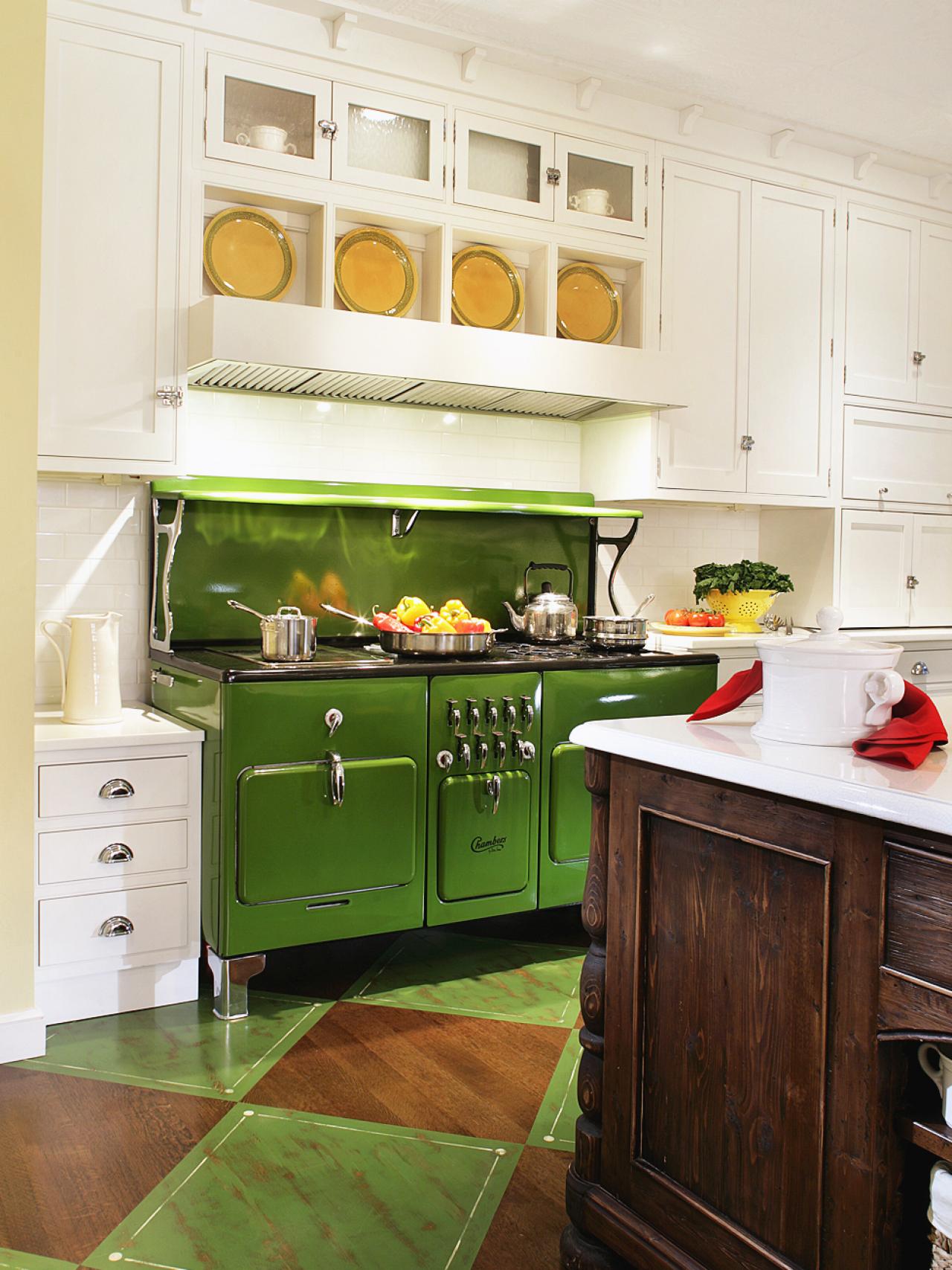 What first comes into mind when looking at this kitchen is "where is Alice?" This original kitchen brings a touch of 1800 flair to a modern home. The green vintage stove, the yellow plates, and the tiled floors pair perfectly with the white to make it a stylishly transitional kitchen with the focus on the beautifully unique stove.
Adding a vintage stove to your modern kitchen can add style to your home. If you like vintage styles or have some quirky styles to work with, adding a touch like this can go far in turning your home from outdated to cool and trendy.
20. Classically Rustic white Kitchen Cabinet Design
There is just something about cooking in rustic kitchens. Whether you are building your home or renovating your kitchen, a kitchen idea like this one offers both space and class. The combination of the dark stained floors and ceiling beams with the white cabinetry give this kitchen an elegant appearance. The white helps open up the room and gives it a spacious feel even with the large island in the middle.
This kitchen idea is evidence that classic and rustic kitchens are still in style in the interior design and home decoration world. The hanging lights add extra detail that only enhance the beauty of this classic kitchen.
21. Doing Black and White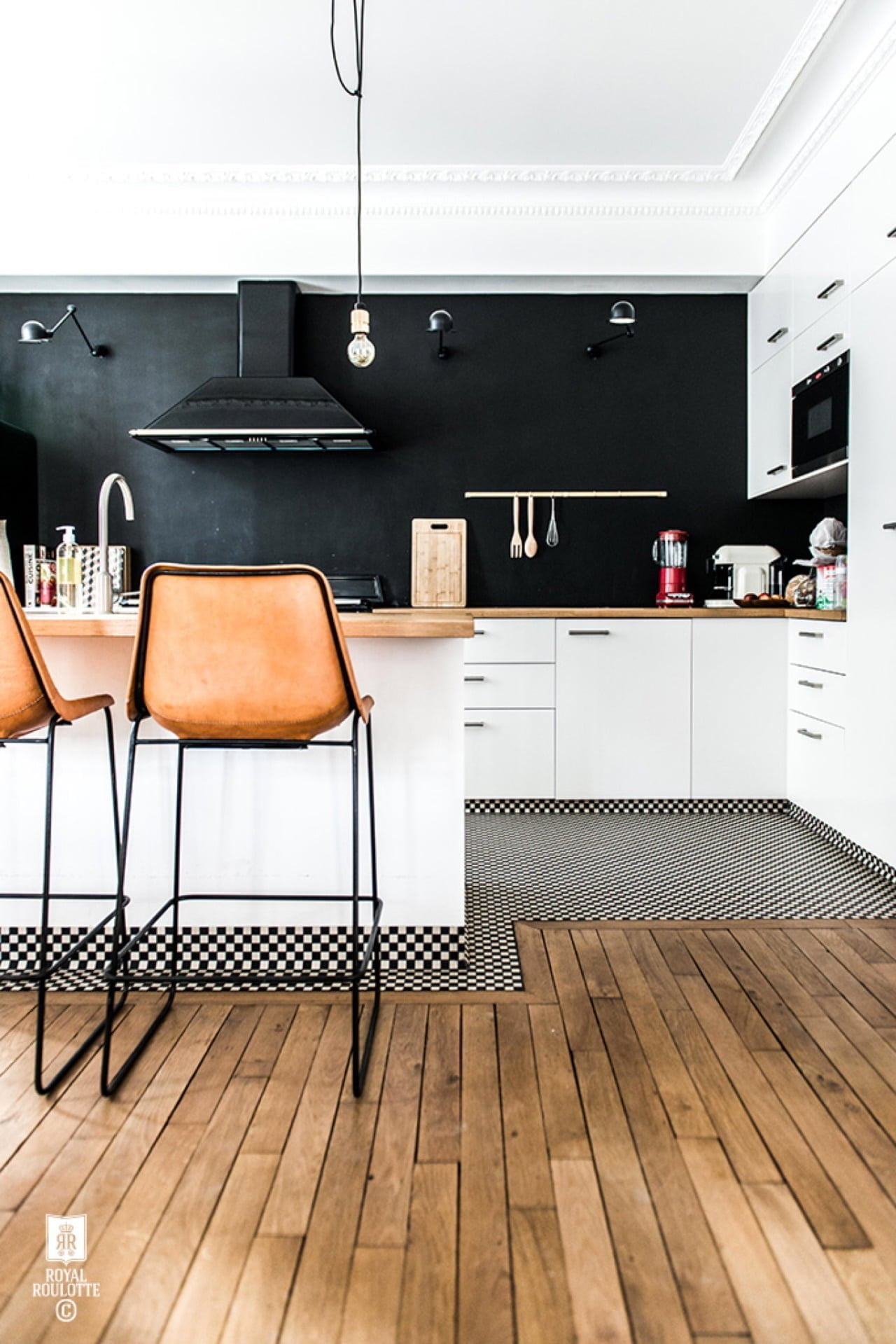 The use of kitchen cabinets in this kitchen is proof on how kitchen ideas don't have to be cut and dry. This excellently designed kitchen brings in a number of components to create an attractive and stylish space. The checkered floor tile combines expertly with the black back splash with the white cabinetry pulling the whole look together. The tall bar stools add a contrast that enhances the kitchen's unique style.
If you want a trendy kitchen in your home that offers you the illusion of space and functionality, a kitchen like this may suit your style. Who knew black walls could be so much fun in a kitchen? The conveniently placed hanging lights against the back splash and the white ceiling keep this kitchen from appearing too dark.
22. Brick By Brick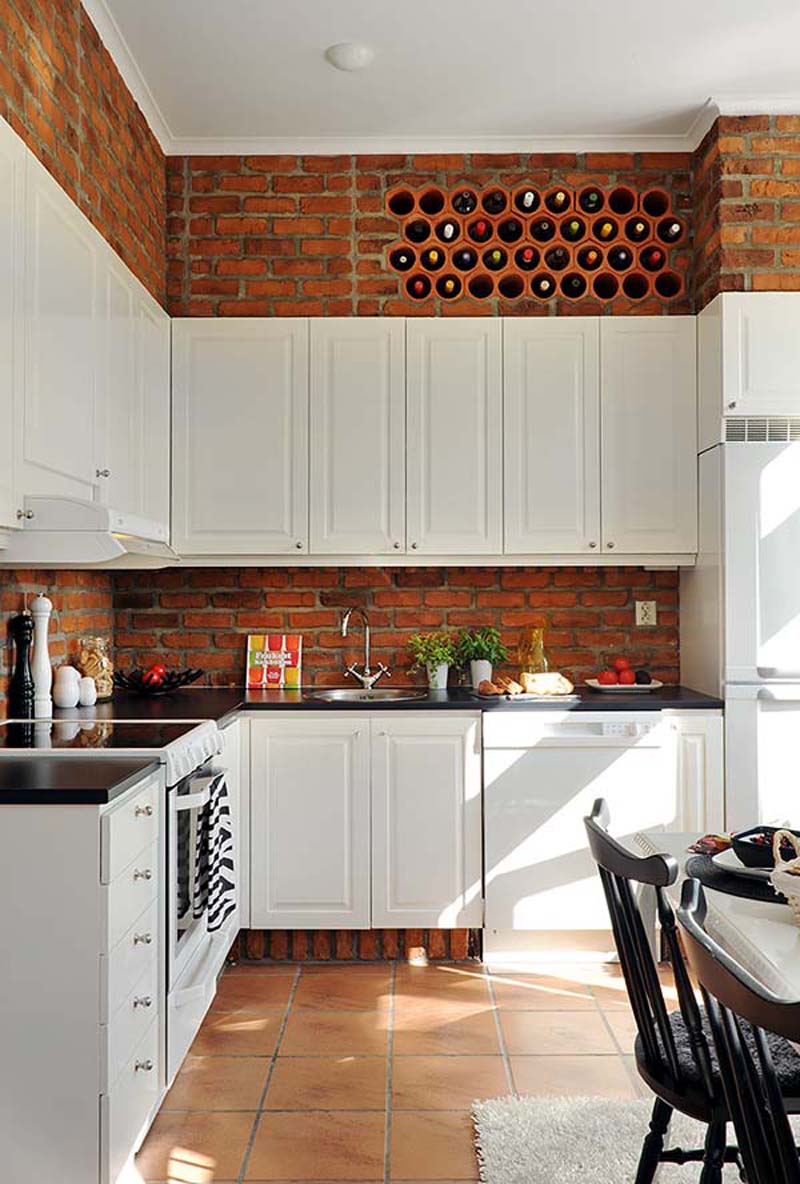 This kitchen shows that brick can be an excellent choice for kitchen designing. The contrast of the kitchen storage cabinets against the red brick only enhance the beauty of this design. This design is both homey and modern.
The built-in wine rack is a creative idea that can work in many types of kitchens. This design is an excellent idea for people who want the illusion of more room in their kitchen while maintaining classy storage space.
23. White, White, White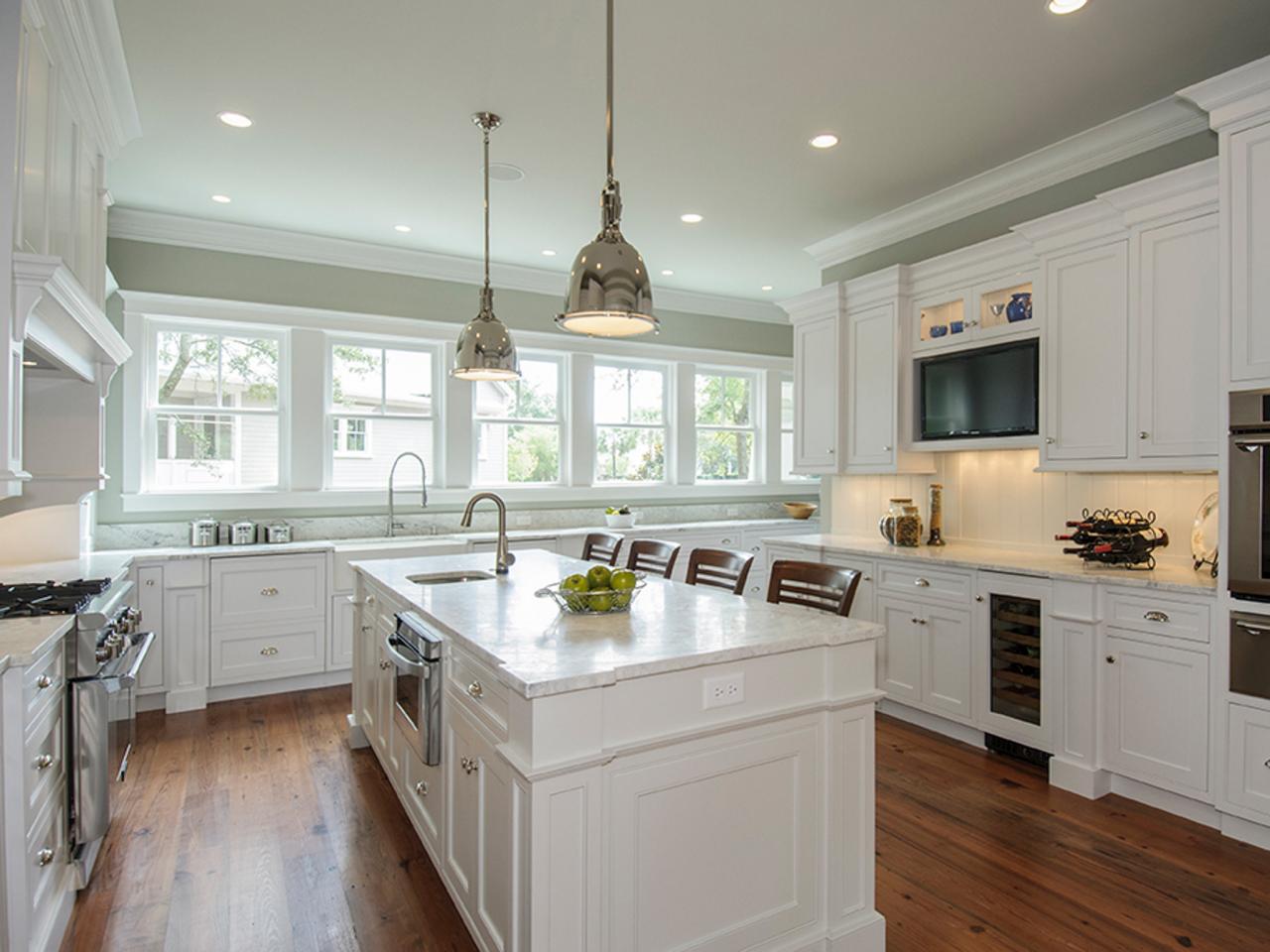 While wearing white pants may be a big fashion no-no in the clothing world, when it comes to interior decor, white definitely goes. This kitchen is evidence that kitchen cabinet ideas can include using white. This already spacious kitchen is enhanced by the pure white cabinetry making it a heavenly paradise for moms with a lot to do in the kitchen.
There is enough space for little helpers and plenty of cabinet space for all the many dishes, ingredients, and necessary appliances that are involved in running a large household. This is every big family's dream kitchen, with plenty of counter space and a fabulous island to enjoy a meal at.
24. A Work of Art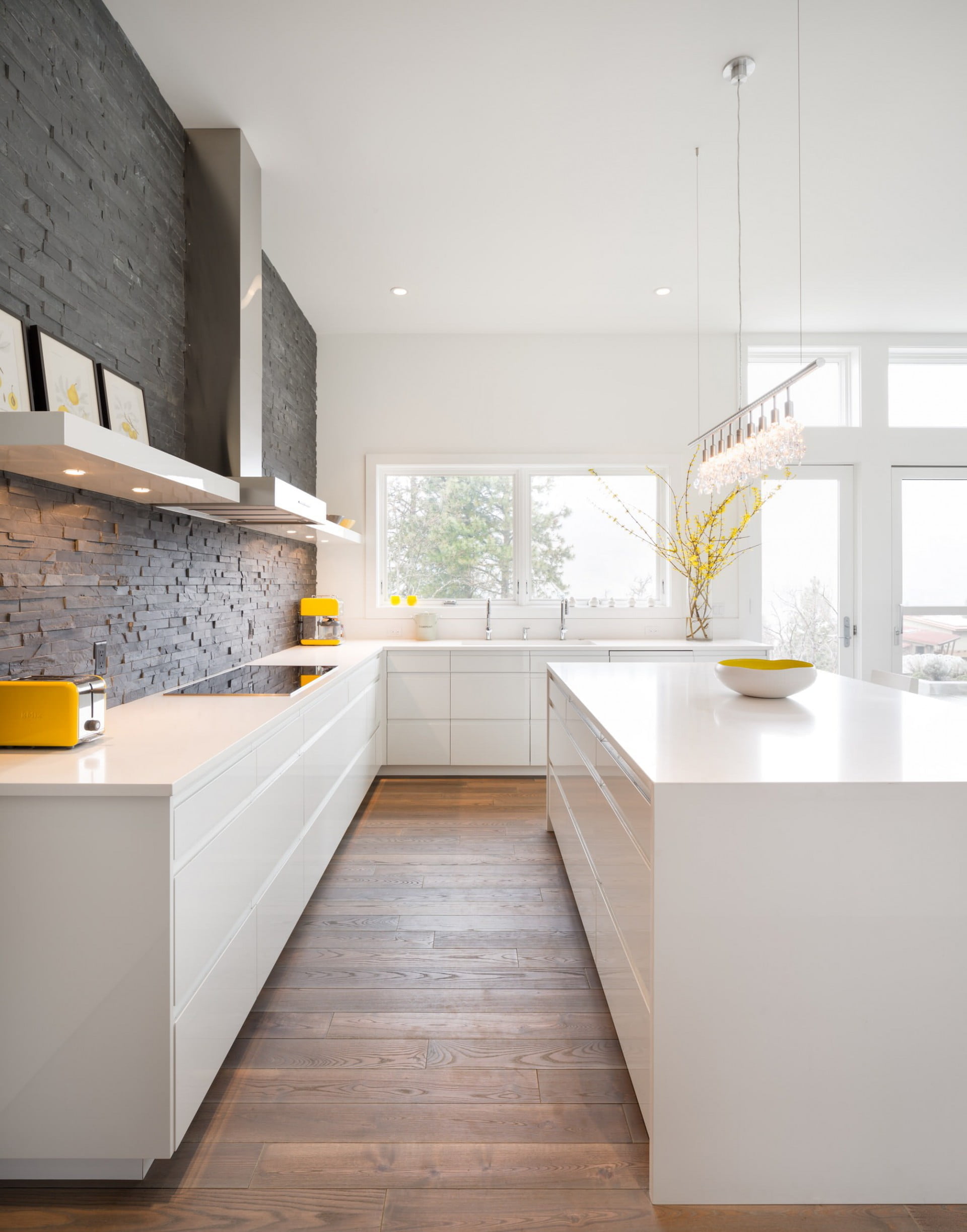 If you have been looking at pictures of cabinet ideas to come up with a design for your kitchen, this picture is one great example of how white cabinetry should always remain a staple in kitchen design. White allows home kitchens to be bright and look spacious. The white cabinetry and installations in this kitchen enhance the grey stone wall giving the home a modern and clean feel.
If you like bright and elegant kitchens, consider white cabinetry paired with dark back splashes or counter tops. The result is alluring and trendy. The yellow decor and appliances add a special pop of color that makes this kitchen come alive.
25. All in the Cabinets Detail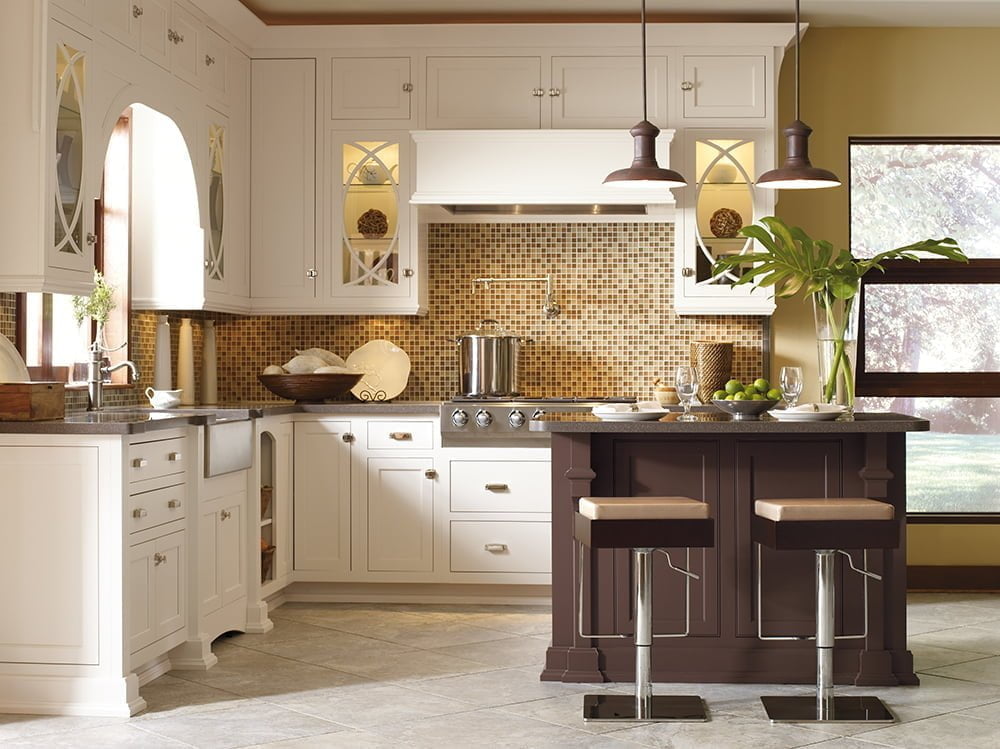 The white cabinetry with crafty designs on the glass windows in contrast with the unique lighting and tiled back splash is a fantastic example of expert kitchen designing. If you are searching for kitchen cabinet ideas for your home, consider white as your cabinet color with details and designs to make them stand out.
The color theme in this kitchen also keeps it looking elegant and well-organized, which is how a kitchen should feel. The dark brown island contrasts with the white cabinetry but ties together with the cabinet window decor and hanging lamps.
26. White Kitchen Cabinets Are So 2016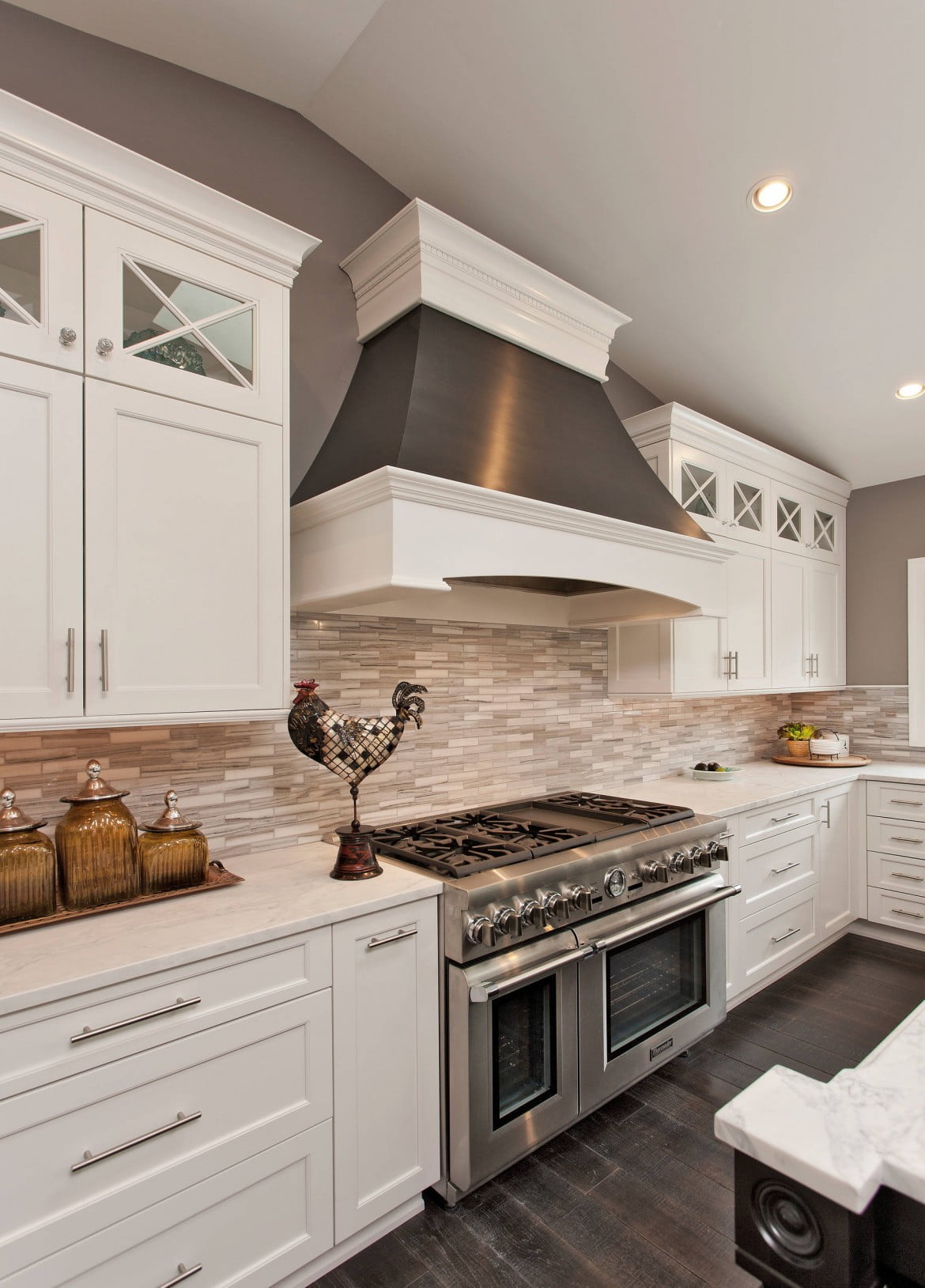 One of the most attractive facts about using white in your kitchen is that you can do so much more with other colors and designs. As is evident in this kitchen, dark walls and an intricately designed back splash don't take away from the brightness of a kitchen. With white being a main color in this kitchen, other designs can come into play making it a classy design and perfect for your home.
A special feature to this kitchen is the range hood with its thick white rim that subtly combines with the kitchen cabinets. When designing your kitchen, consider white fixtures and cabinets.
27. Designer's Love Affair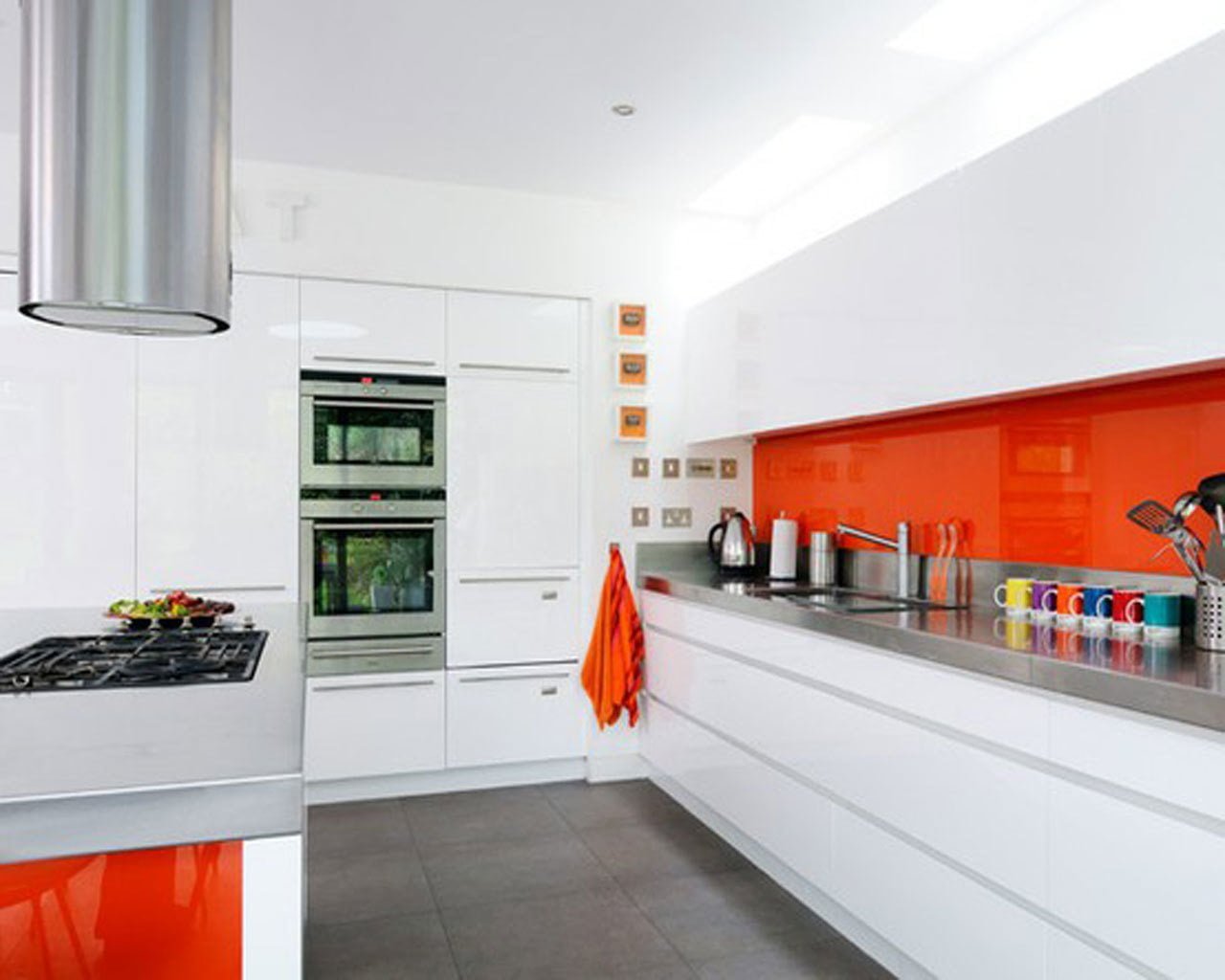 If you have yet to be convinced about white in your kitchen, take a look at pictures of kitchen cabinets and you may change your mind. White can make almost any kitchen design come to life and look good doing it. This kitchen is proof that anything goes when you have white involved.
Would you have thought a bright orange would look good in kitchen? Off bat it may seem somewhat of a Halloween themed idea, but the combination of the glossy orange back splash and island base against the white cabinetry not only pairs perfectly but looks trendy and chic. For your own home, you can pick any color you love and run with it.
28. Expert Remodel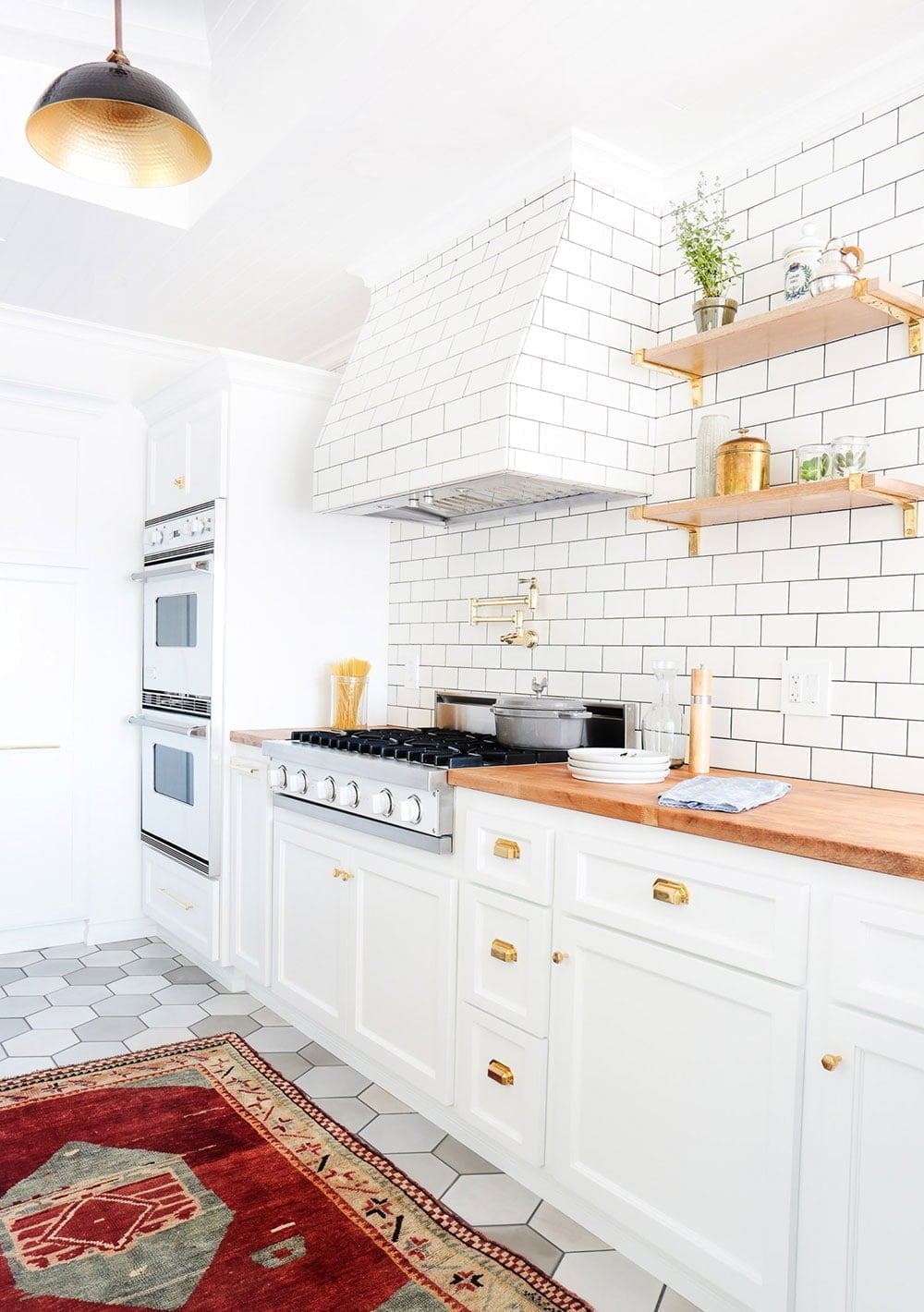 If you are thinking of remodeling your kitchen to provide it with a classic yet updated look, this kitchen shows that anything goes. The gorgeous white brick range hood and back splash combined with the salmon-colored counter-top and brass handles provides it with a uniquely elegant touch while keeping it a homey and inviting kitchen.
The African decorative rug helps to tie in the whole look while providing an artistic contrast in this unique space. The white in this kitchen is just another example of how white keeps things bright and everyone wants light while cooking. Keep white in mind the next time that you plan a kitchen update.
29. Design Beauty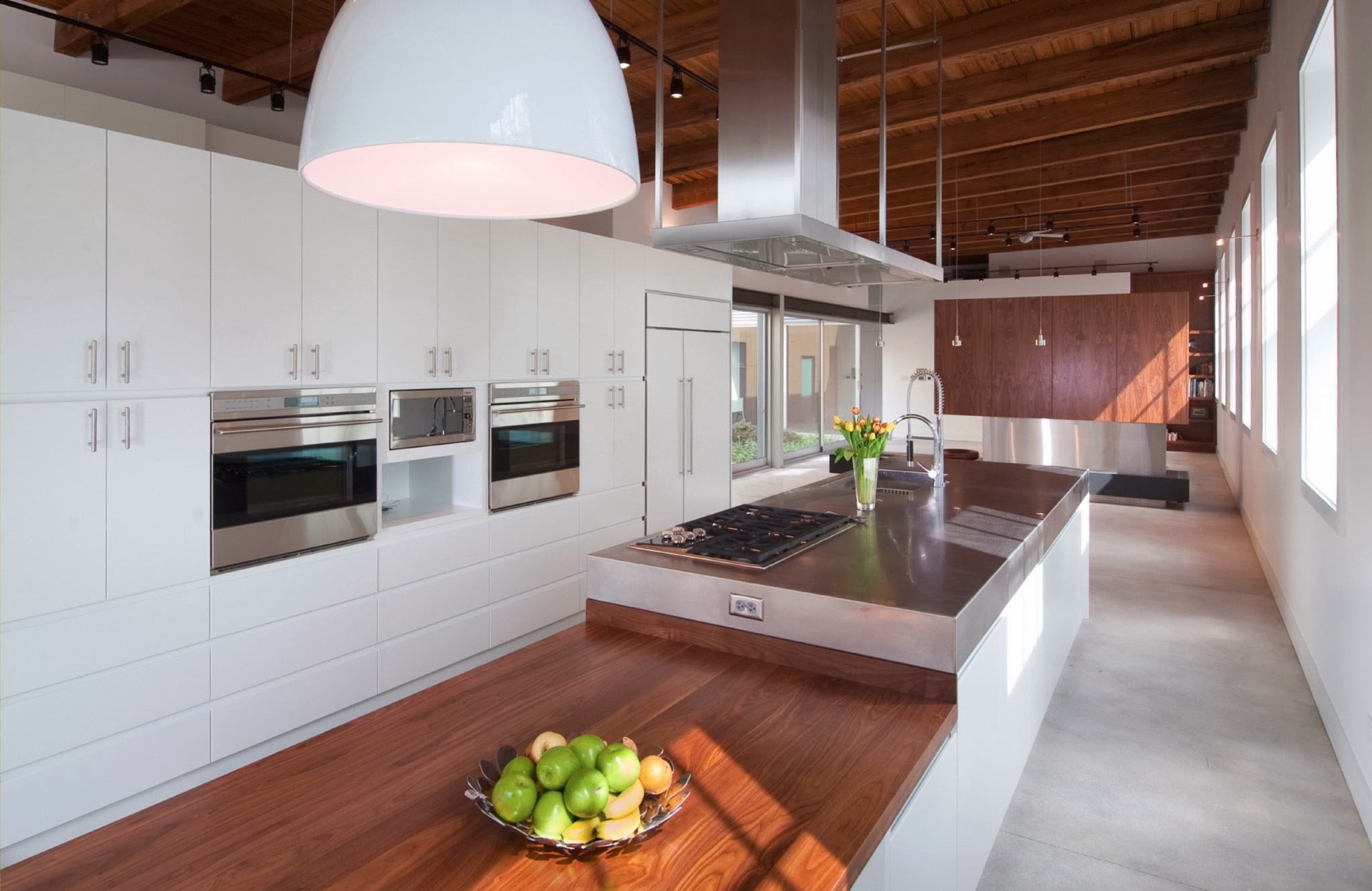 The tall cabinets, the wooden ceilings and counter tops, and the large windows not only create a spacious feel to this kitchen but also make it look classy and elegant. While somewhat of an industrial design, the wood helps to provide a cozier ambiance in this spacious kitchen.
If you like hardwood in your home and the kitchen is no exception, a design like this will provide you with an attractive yet highly functioning space. The placement of the island, lights, and cabinets is a fabulous use of space.
30. Pretty in Floral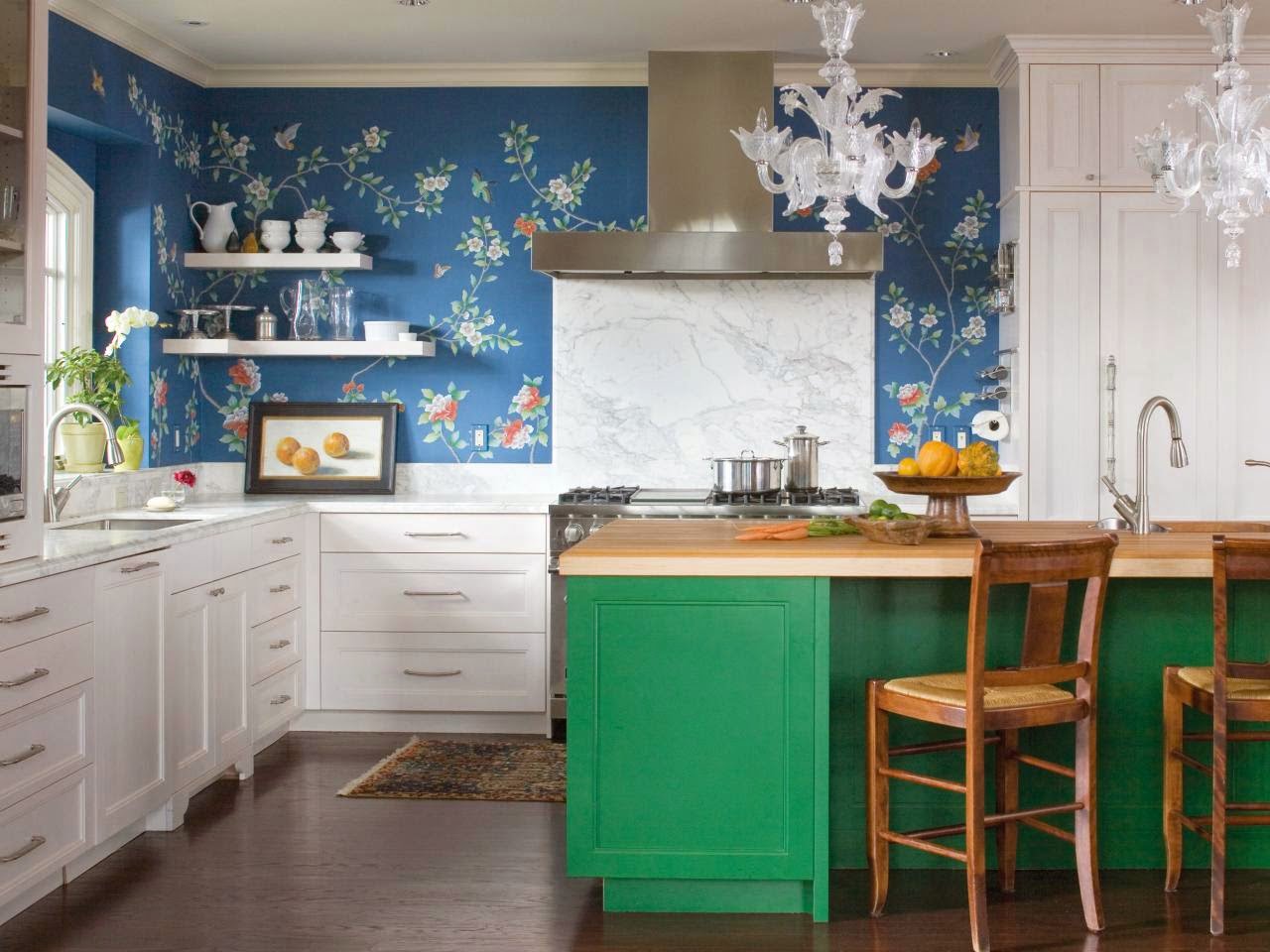 Custom built kitchens can be a great idea for people who like a little more flair. This cottage kitchen ties together white cabinetry with detailed floral wallpaper to create a darling effect. The green island combines perfectly with the background while remaining a show-stopping attraction all on its own. The intricate chandeliers fit right in this fanciful kitchen that is not only beautiful, but most likely enjoyable to work in.
While there seems to be "too much" going on in this kitchen, every component was placed perfectly to provide the customer with a delightful result. The white keeps it from looking too clutter-y and keeps it bright and fresh.
31. Elfish Beauty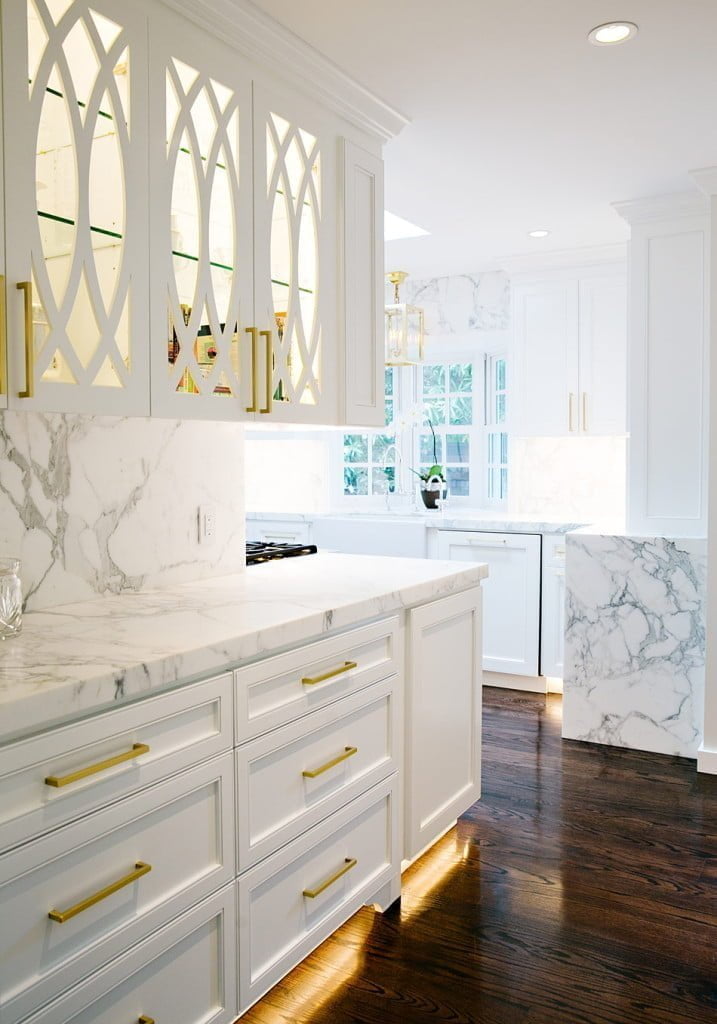 There is something so elegant about marble and this image only proves that white is a color that deserves to be used in your kitchen. The white marble counter tops and back splash are gorgeous all on their own, but the addition of the white detail on the cabinets and the gold covered handles makes this kitchen one that looks like it came out of a fairy tale.
If you are all about elegance in your home, consider the use of marble in your kitchen. It not only looks classy, its easy to clean and will enhance the beauty of your kitchen, whether combined with similar cabinets or other styles.
32. Naturally Illuminated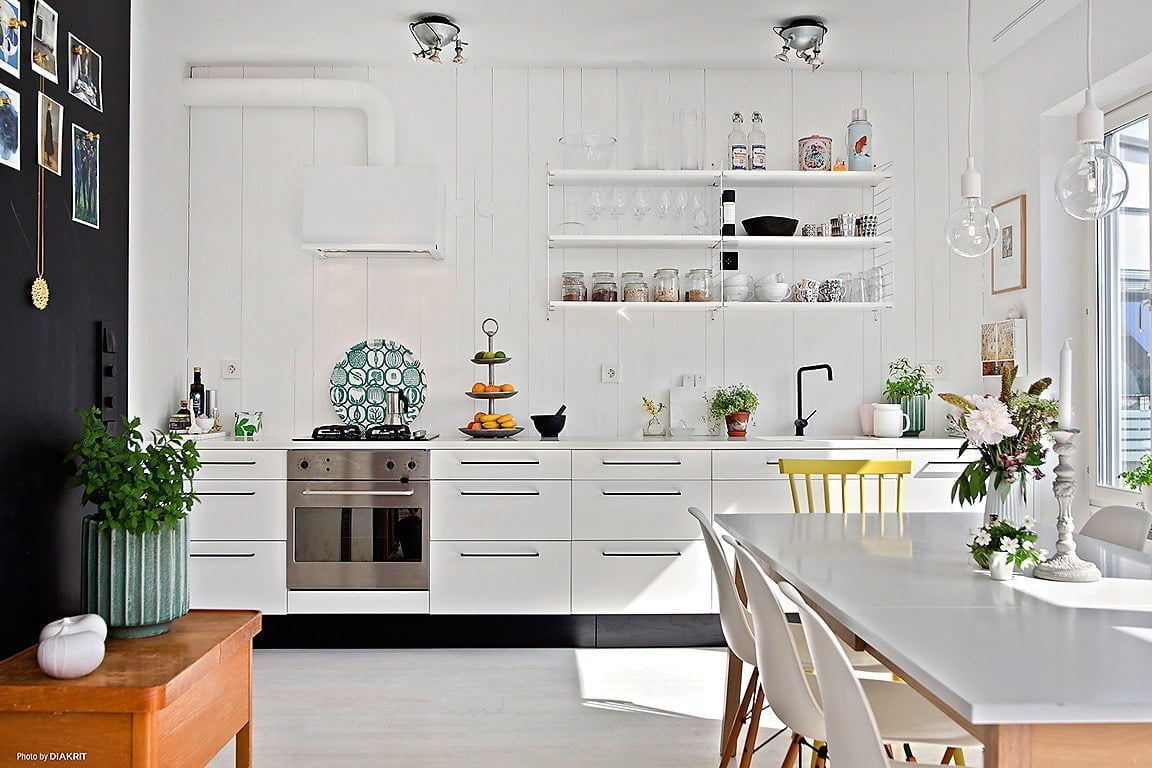 White installations in a home with an abundance of natural light coming in can be an attractive design. Most people appreciate light in the kitchen. For anyone who spends hours cooking, this kitchen is a paradise. The abundance of white opens up this space in a magnificent way, making it an inspiring area to spend time in.
If you think white walls, white counter tops, and cabinets is over doing it, reconsider after looking at this image. The absence of colors allows the home owner to play with decor and add abstract furniture without having to worry about clashing with already installed pieces.
33. Elegance Redefined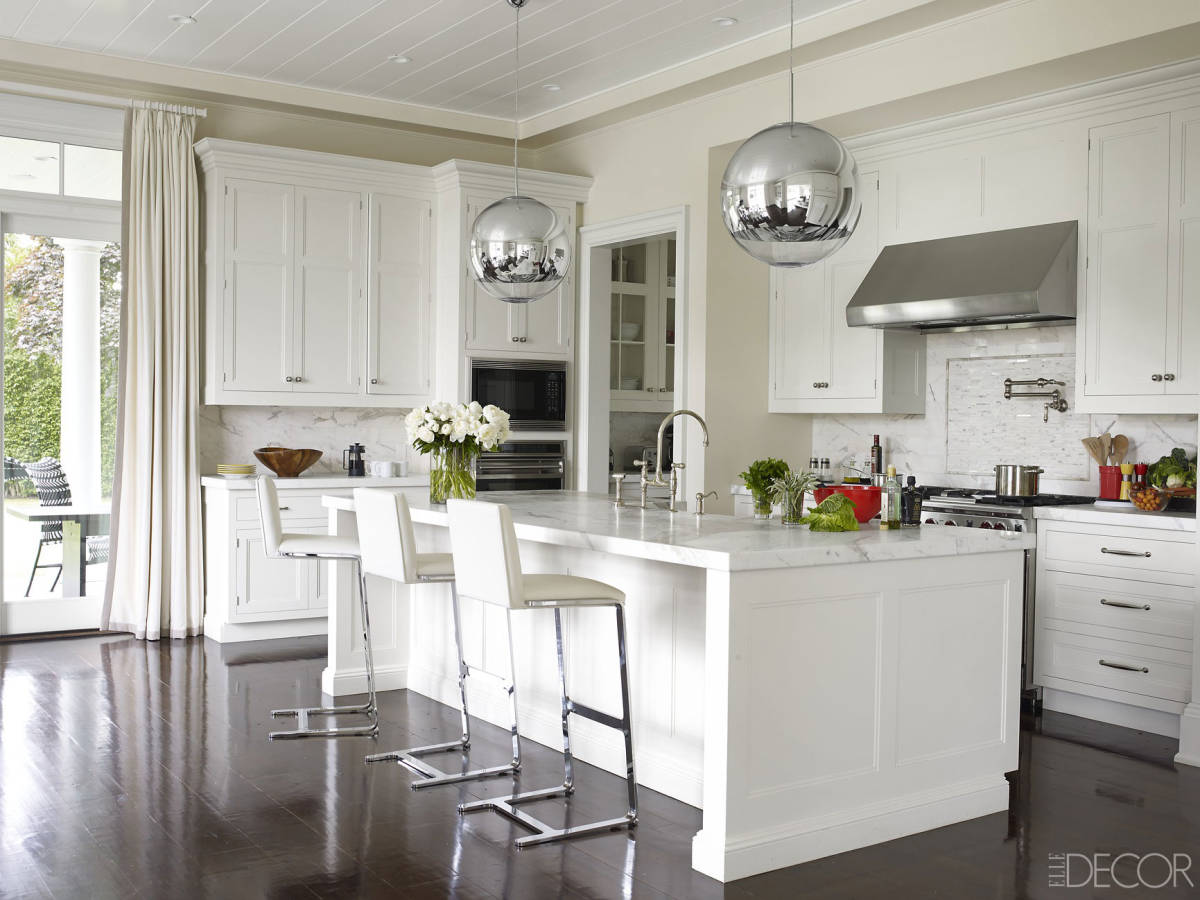 If you have never thought of hanging metal spheres in your kitchen, you may want to give it a try. In this kitchen the effect is tantalizing as it adds style to this Hampton home. The white cabinetry is enhanced by the metallic touches spread throughout the space while providing the room with plenty of light and brightness.
This is one of those classically beautiful kitchens you expect to see in the Hamptons and while there is an element of modern design in the kitchen, its an excellent portrayal of classic and modern coming together to create a pleasing effect.
34. Bright Open Spaces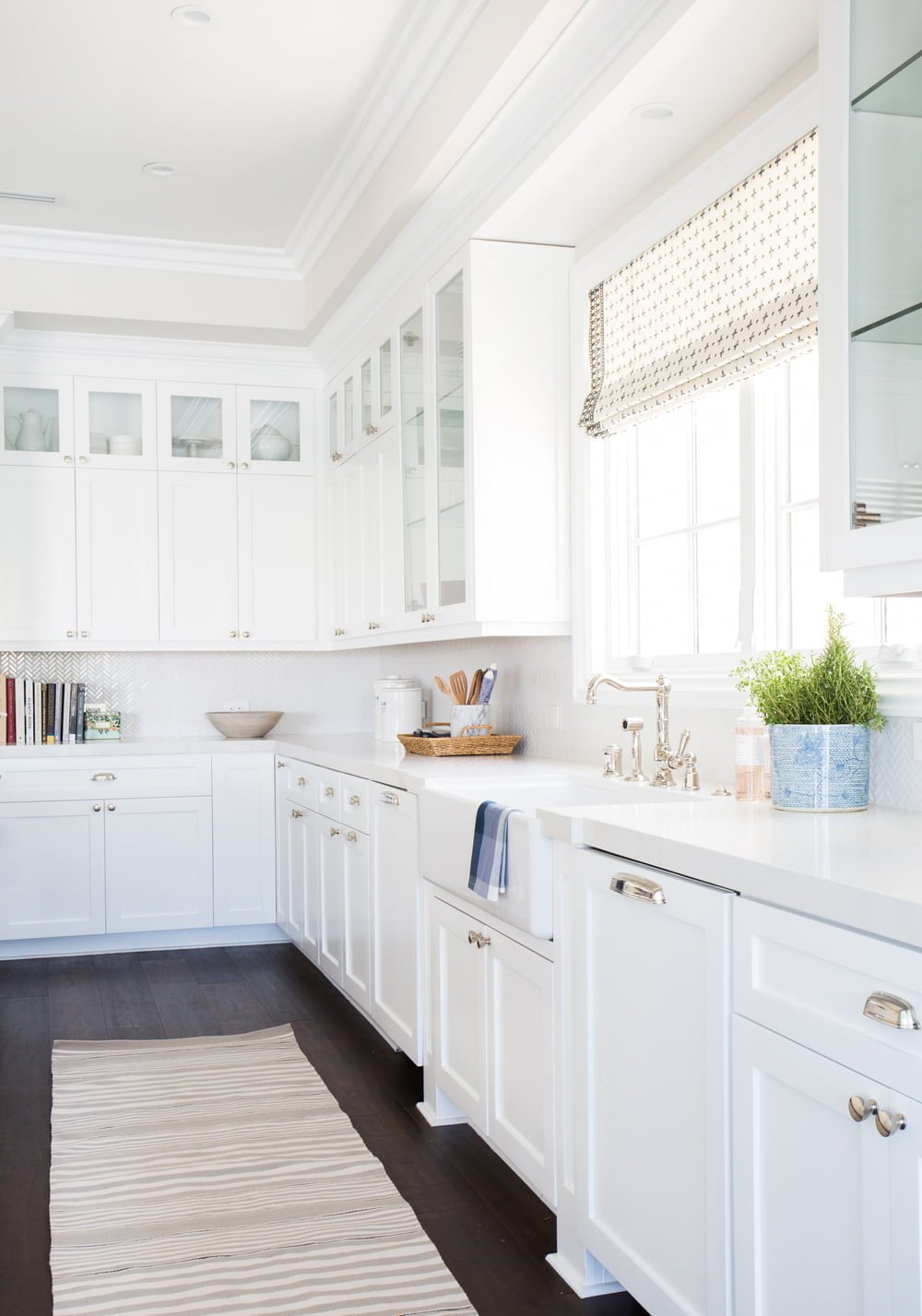 This is the type of kitchen where you can simply focus on the task at hand in a bright environment. This kitchen is ideal for moms without any need for thrills and frills. Its spacious and full of light, which is what most home owners look for in their kitchens.
If simplicity and elegance are what you appreciate in your home, a kitchen like this one will fit right in with your lifestyle and home. The basic style of this kitchen allows the home-maker to add touches of style and personal decor.
35. A Kitchen Romance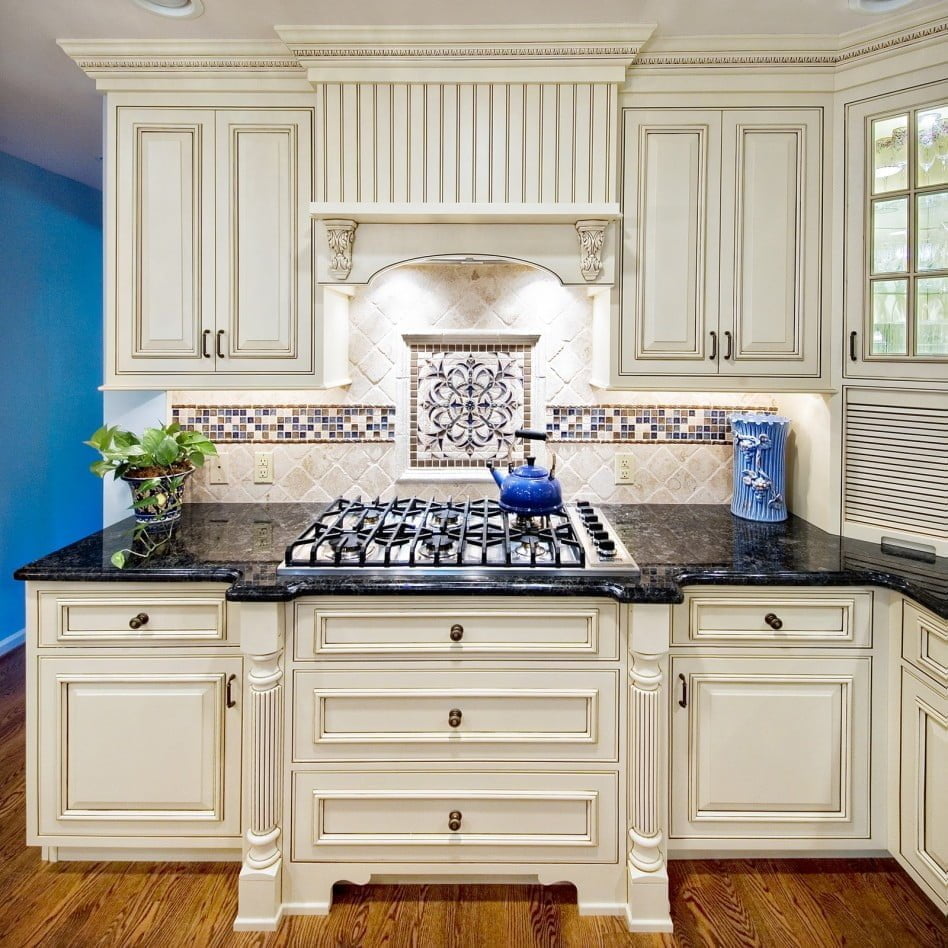 This kitchen makes you think of romance with its European style decor and detail and the beautiful design on the back splash. The off-white color of the cabinets blends attractively with the beauty of the dark counter tops. The craftsmanship and detail from the pillars of the stove cabinets to the range hood above the stove show that kitchens don't always have to be basic.
This space is both inviting and functional and if you are looking for artistic touches to add to your kitchen, consider some detail like this gorgeous craft work to enhance your home.
36. Keeping it Real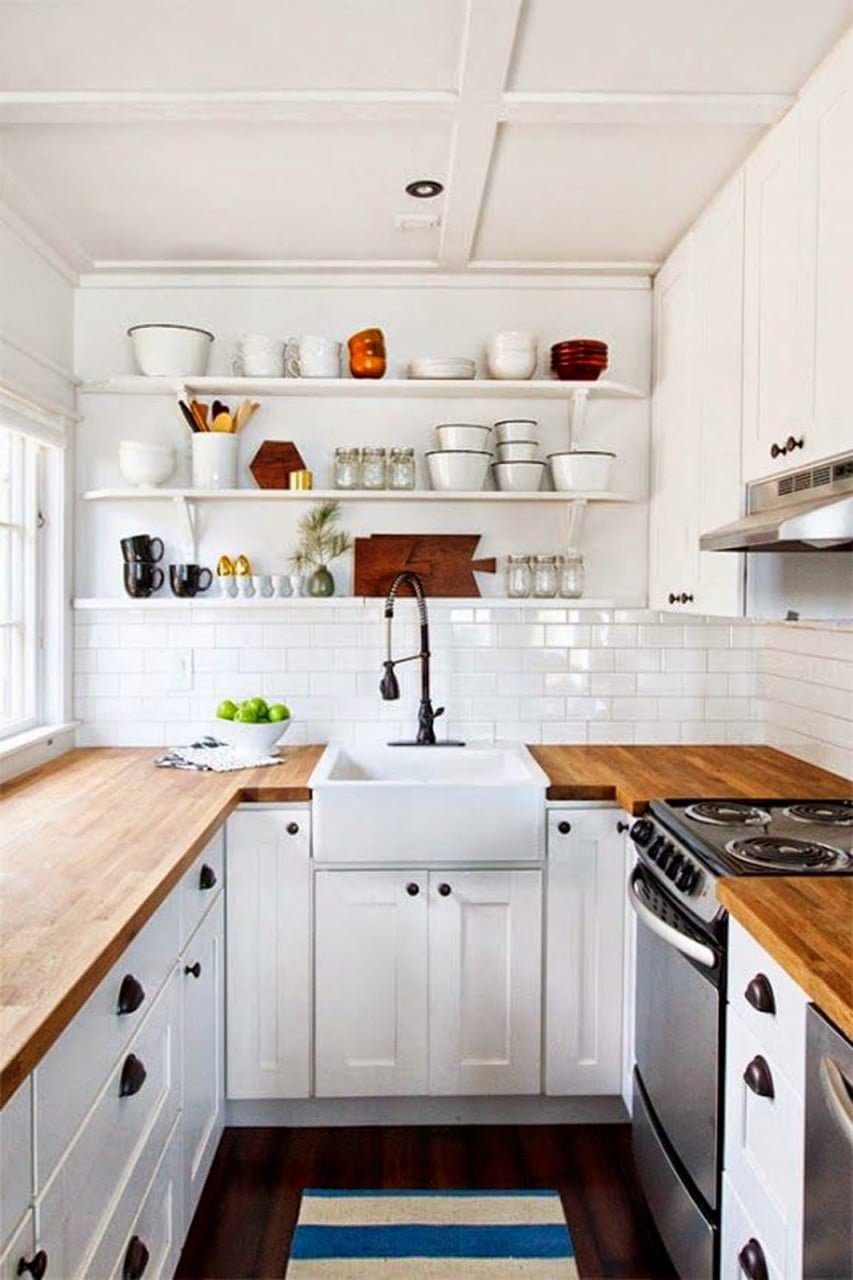 Updating your kitchen doesn't always mean changing the original style or modernizing a kitchen that belongs in an early 1900 home. This kitchen's owner wanted to keep the original feel while remodeling. The result is a gorgeous space that is both inviting and functional. With beautiful butcher block wood as counter tops pairing perfectly with white cabinetry, this look is both homey and inviting.
The white shelves above the kitchen sink are also a unique touch and excellent idea for small kitchens that need a bit of extra storage space. This kitchen is evidence that classic can still be beautiful.
37. Break the Rules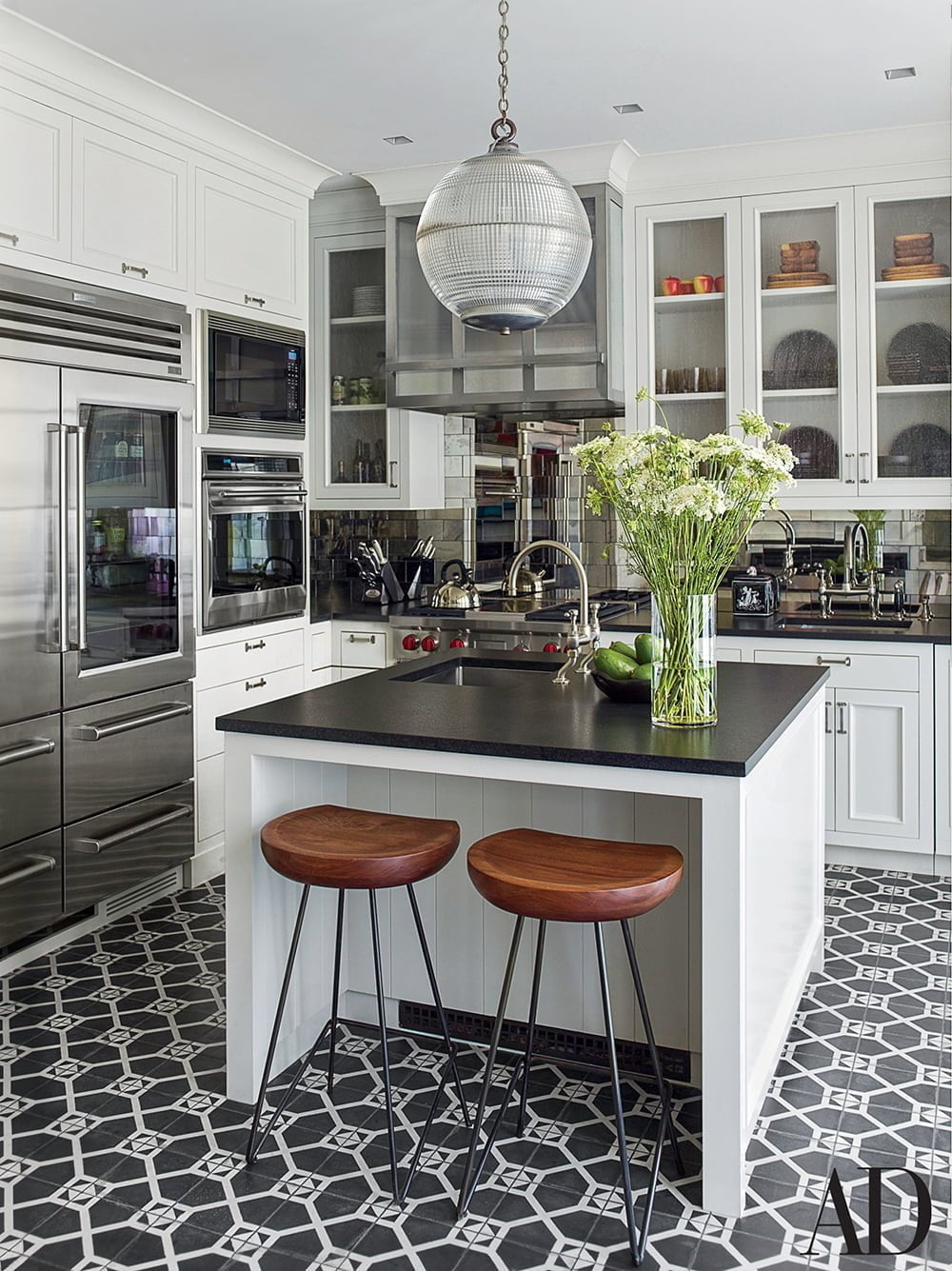 Who says that black and white tile floors can't look good in a kitchen? When combined to perfection as in this image, elegance is the word that comes to mind. This kitchen has a number of details that could be clashing in another setting, but the placement of key designs and materials works perfectly in this setting.
From the disco ball light to the mirror back splash and the black counter top, this kitchen is an attractive example of contemporary kitchen design. If you want to do something unique in your home, contemporary with white cabinetry is an excellent choice.
38. The Perfect Pair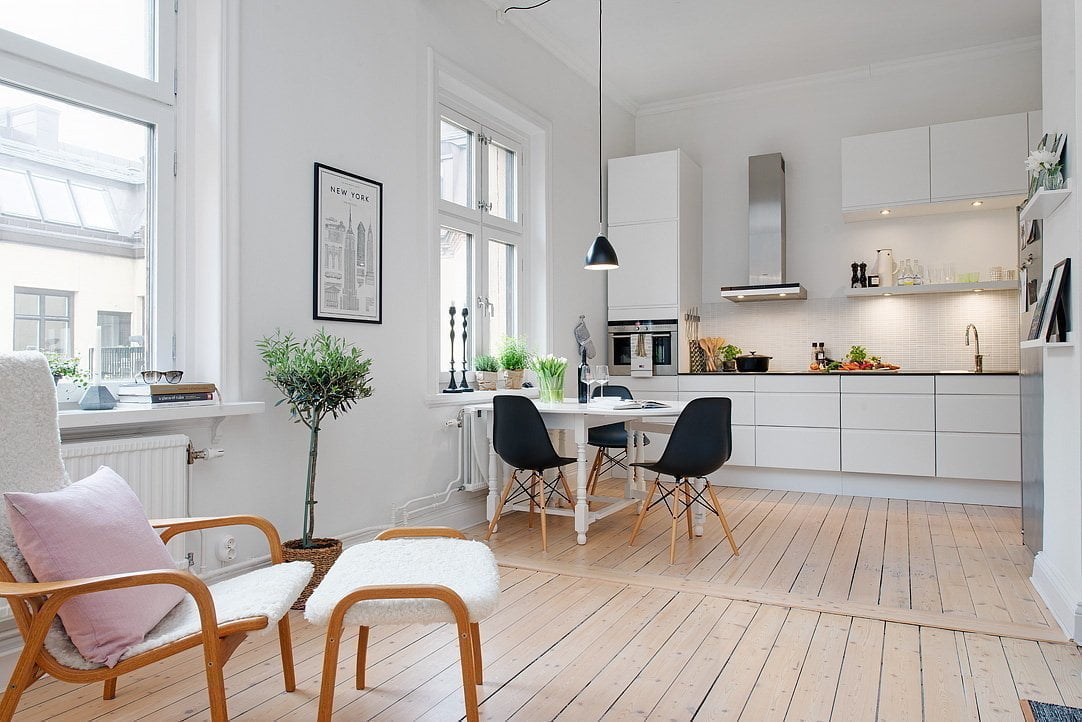 Big windows and white cabinetry are a match made in Heaven for any home's kitchen. The elegance, brightness, and fresh feel provided by this winning combination may have you wondering why you hadn't thought of kitchen improvements before. This kitchen provides home makers with plenty of moving-around space and is aesthetically pleasing.
This kitchen is evidence of genius design with white as the primary color. From the lights over the ideally placed shelves to the simplicity of the cabinets, and the sleek range hood, this kitchen yells classy and chic.
39. Beauty Is In the Eye of the Beholder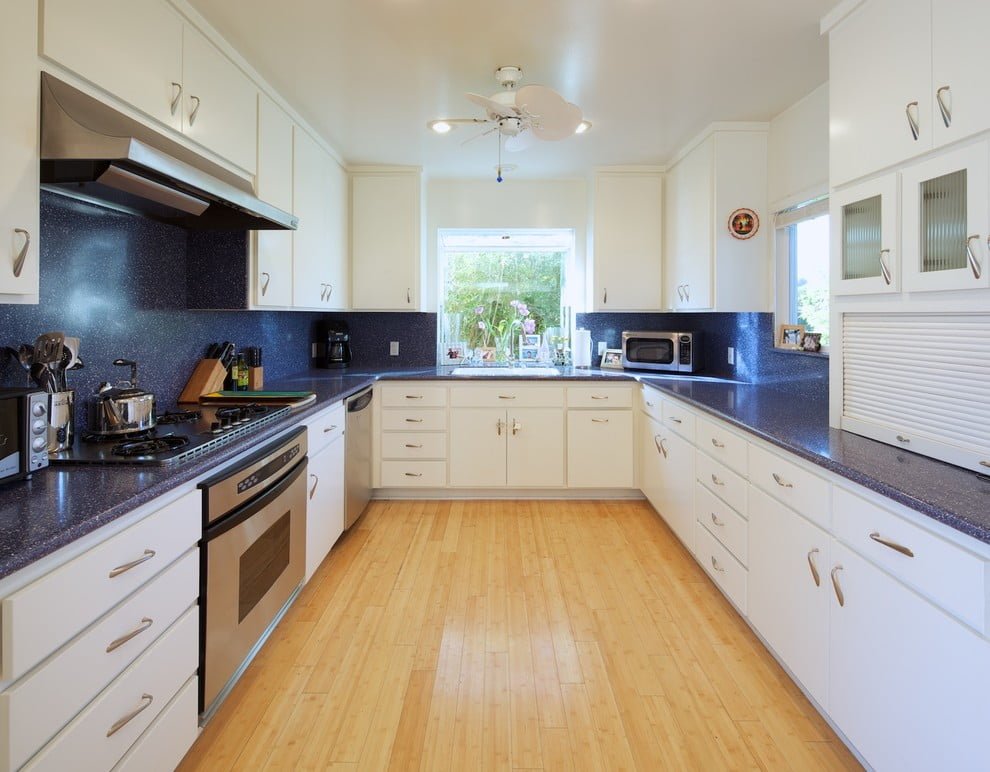 As this kitchen proves, white can open up a space and combine perfectly with any back splash. The black back splash is a beautiful contrast to the white cabinetry. It's kitchens like these that are designed with not only functionality but aesthetics in mind that make home owners want to do improvements.
Consider using dark against white the next time that you update the style of your kitchen. The result is breathtaking as this contemporary kitchen shows. Homes with natural light and large windows look spectacular with a look like this.
40. Playing Tricks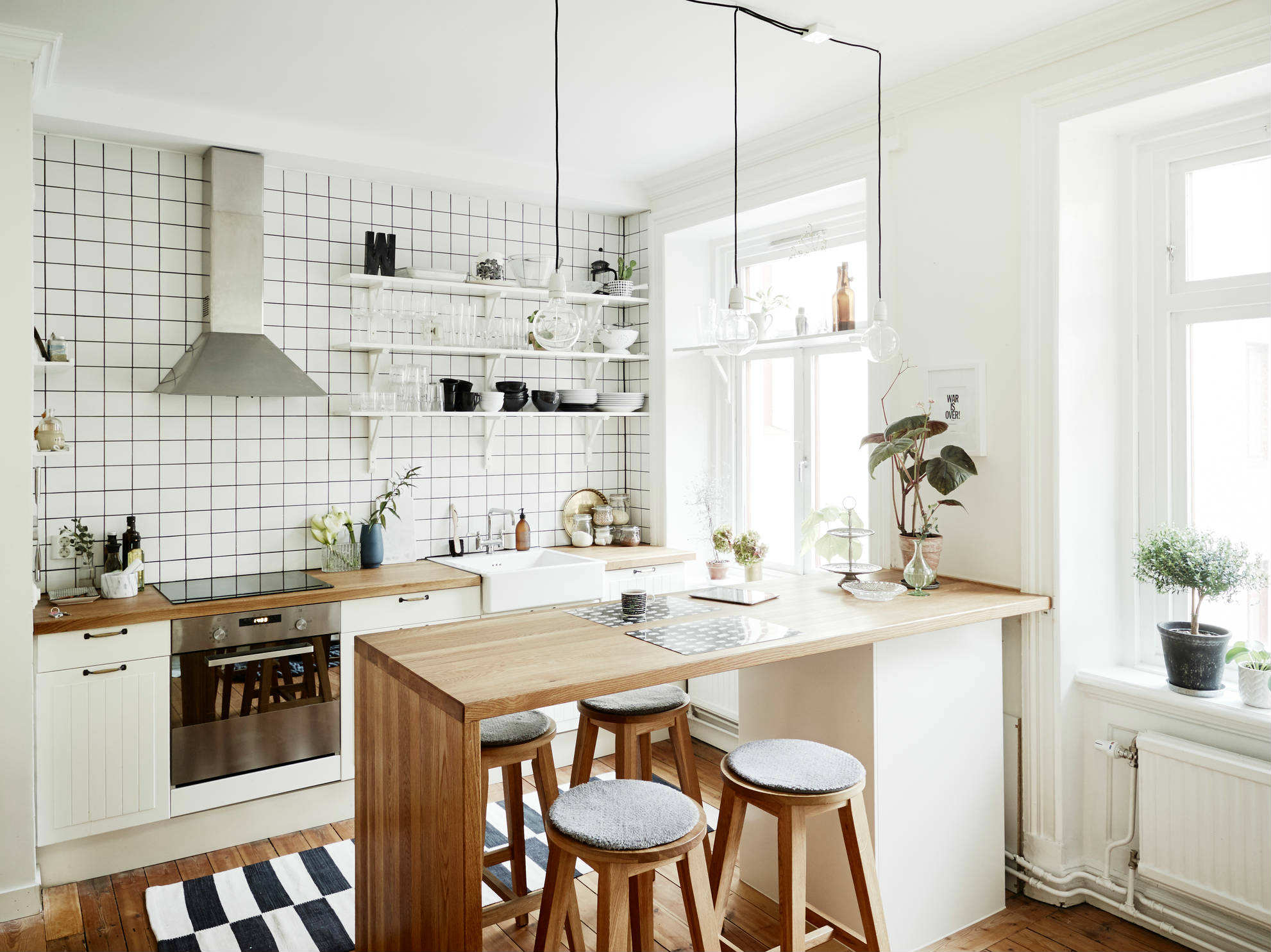 White belongs in nearly any kitchen, but when used in a small kitchen it works magic. This kitchen goes to show that your small kitchen can still look beautiful and spacious. The wooden counter tops pair beautifully with the white cabinetry and the tile back splash adds a touch of detail to the room to bring out its other components, such as the expertly placed shelves on above the sink or the stylish bar stools set near the gorgeous wooden island. Consider these details when renovating your apartment or small home kitchen.
41. Easy and Breezy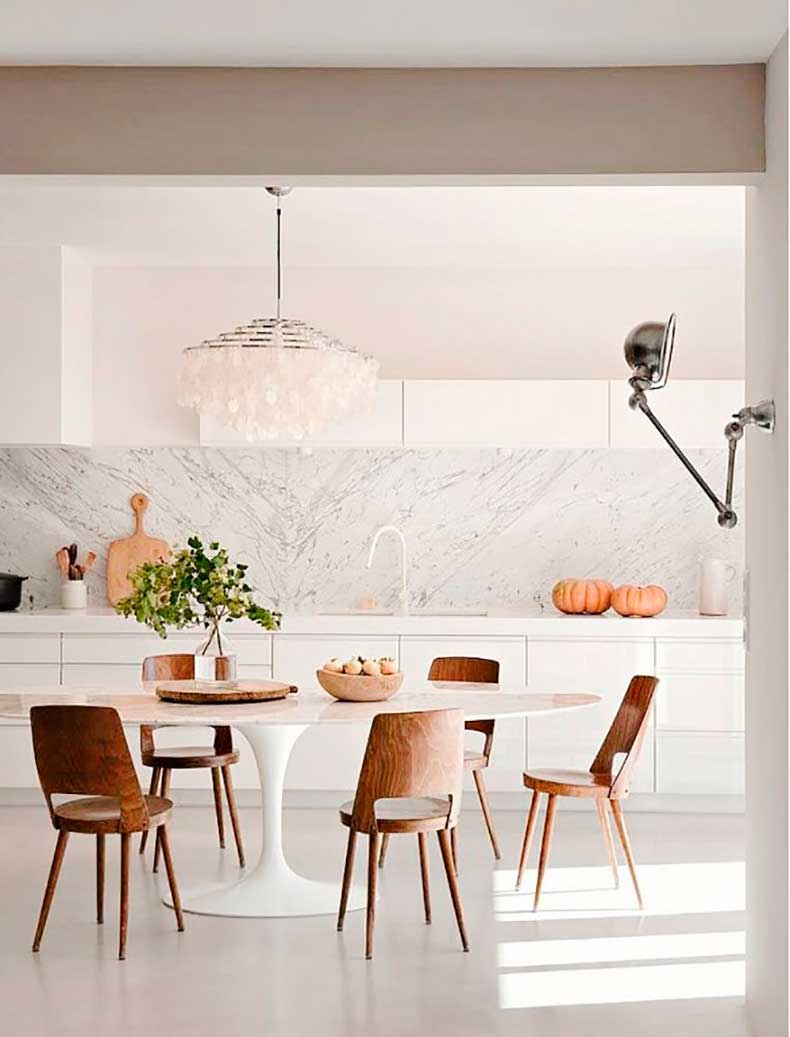 This Southern French home includes the simplicity of French style while offering a light Mediterranean feel to the ambiance. This is the type of kitchen where cooking wouldn't feel like a chore, but rather a pleasure.
From the pastel colors to the marble back splash, the color combination is eye-pleasing. The light colored cabinets with the effect from natural light coming in allow this kitchen to have a soothing and fresh feel. The hanging chandelier provides the room with depth and detail and would provide a room like this with a romantic effect at night.
42. Black Beauty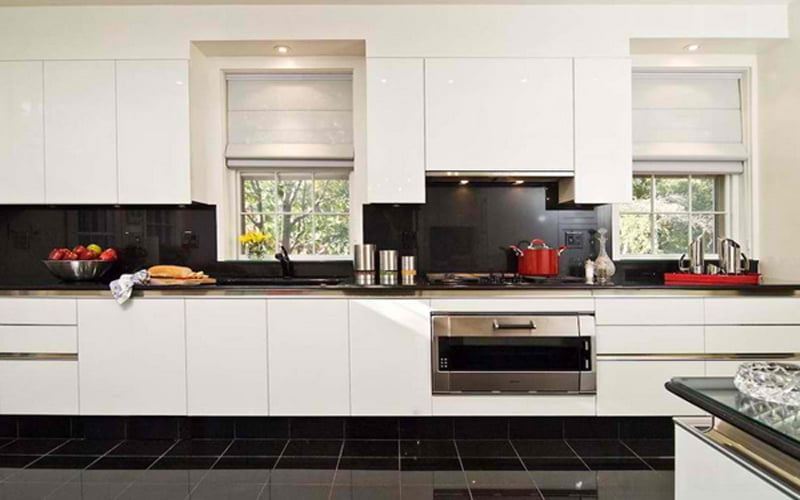 This kitchen shows that anything is possible with its black tiled floor and back splash. What could be a potentially dark setting is saved by the light cabinets that make this kitchen elegant and charming. A black back splash is an excellent idea for hiding food splashes while cooking and is easy to clean.
Whether you are a bachelor looking for a "manly" style or you like contrasts, this kitchen appeals to a variety of tastes.
43. Juxtapositions Work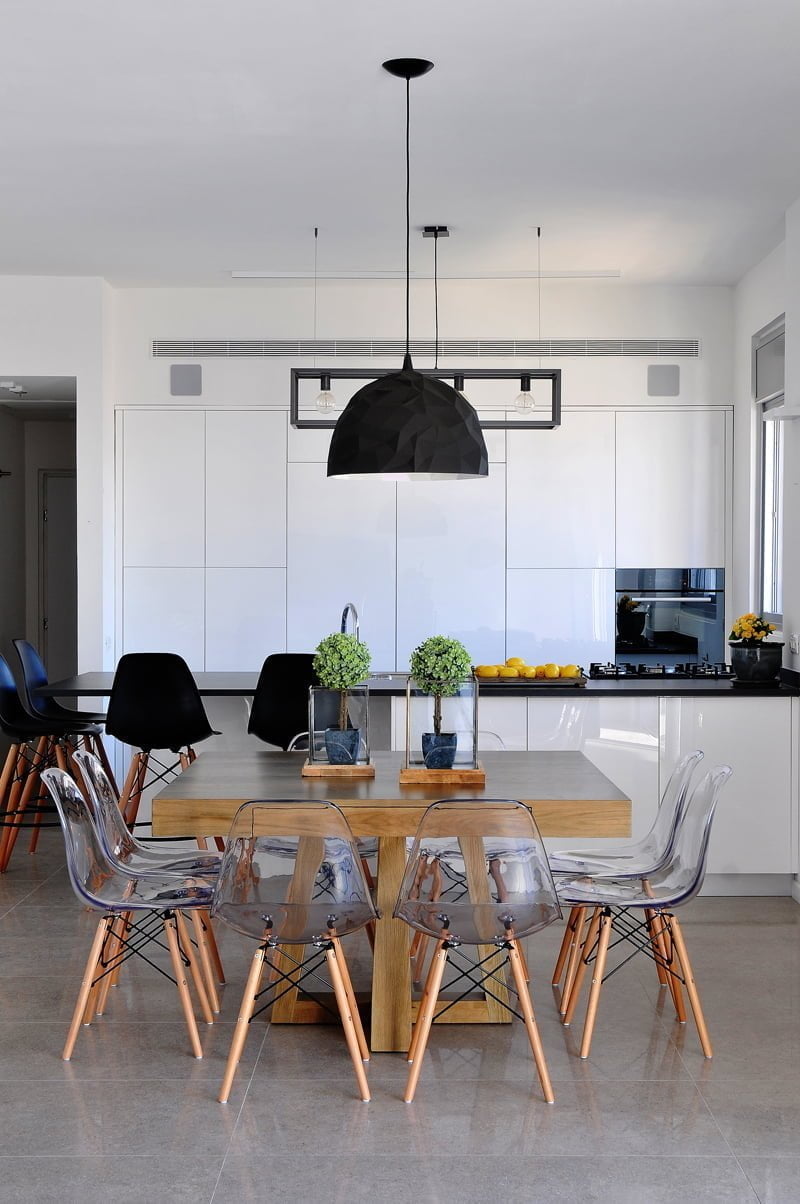 In another example on how black and white can not only work in a kitchen but enhance its appearance, this kitchen shows that black and white make a lovely pairing in home decorating. The long cabinets open up the kitchen making it appear spacious while the black counter and lamp shades work to add depth to this space. While the chairs work in black, the solid colors of the cabinets and kitchen make any color chair possible.
This kitchen is simple yet stylish and pairs nicely with the wooden table and transparent chairs. If you notice, while simply designed, the hanging black lamp shade is a main focal point in this image showing that details matter in your kitchen design.
44. Let The Light In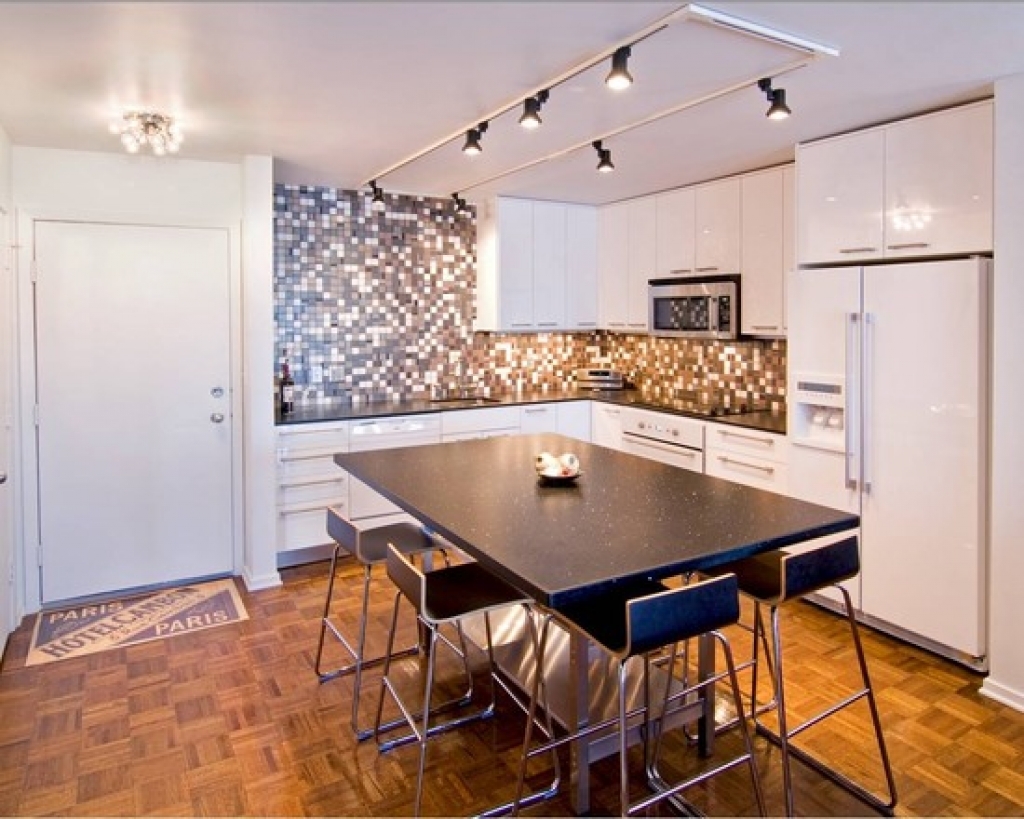 Led track lighting is a key component in the success of this kitchen's style. It enhances all the intricate details of the tile back splash and center table while brightening the room as the light bounces off the light cabinets.
Kitchen designers understand the need for both artistic flair while maintaining high functionality and this kitchen shows how this can be achieved in a variety of environments.
45. A La' Natural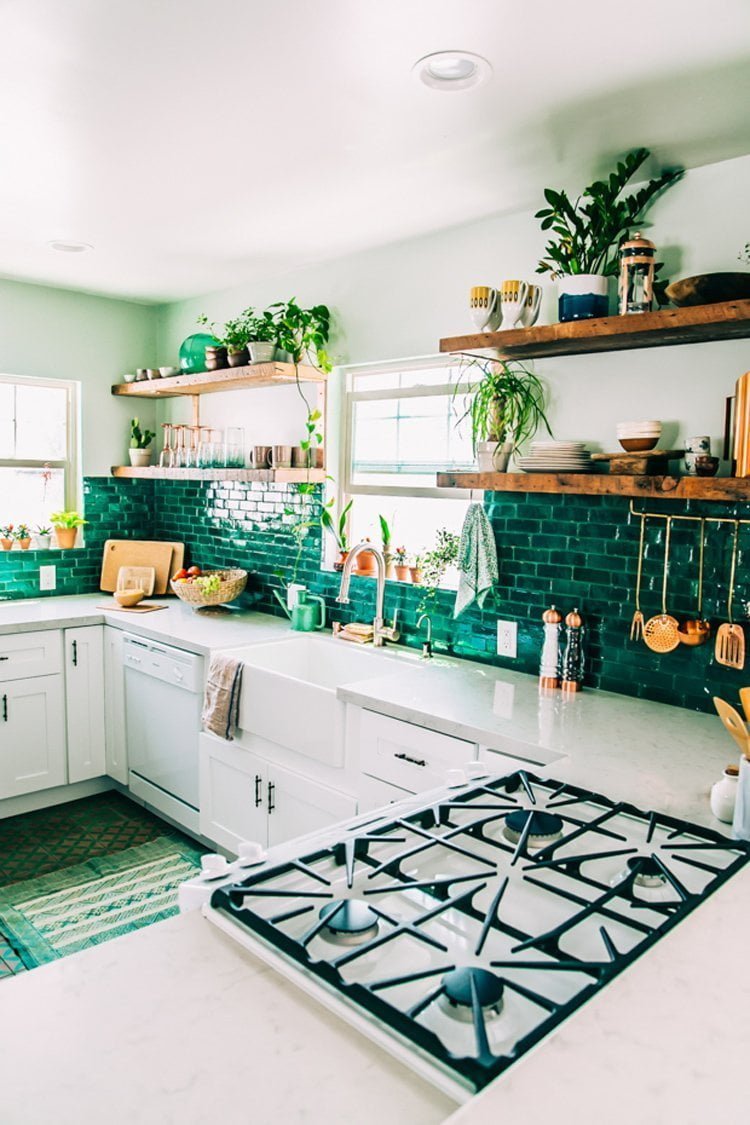 Pure white has its place, but in this bohemian style kitchen, green is the name of the game. With emerald colored tiles as a recurring theme in both tiles and back splash, this kitchen is both soothing and inspiring. The conveniently placed plants help the space come alive and only enhances the eclectic style.
Where an abundance of green could seem too much for the eyes, white comes into play to add a balance to a kitchen that is anything but boring.
46. Color Comes Alive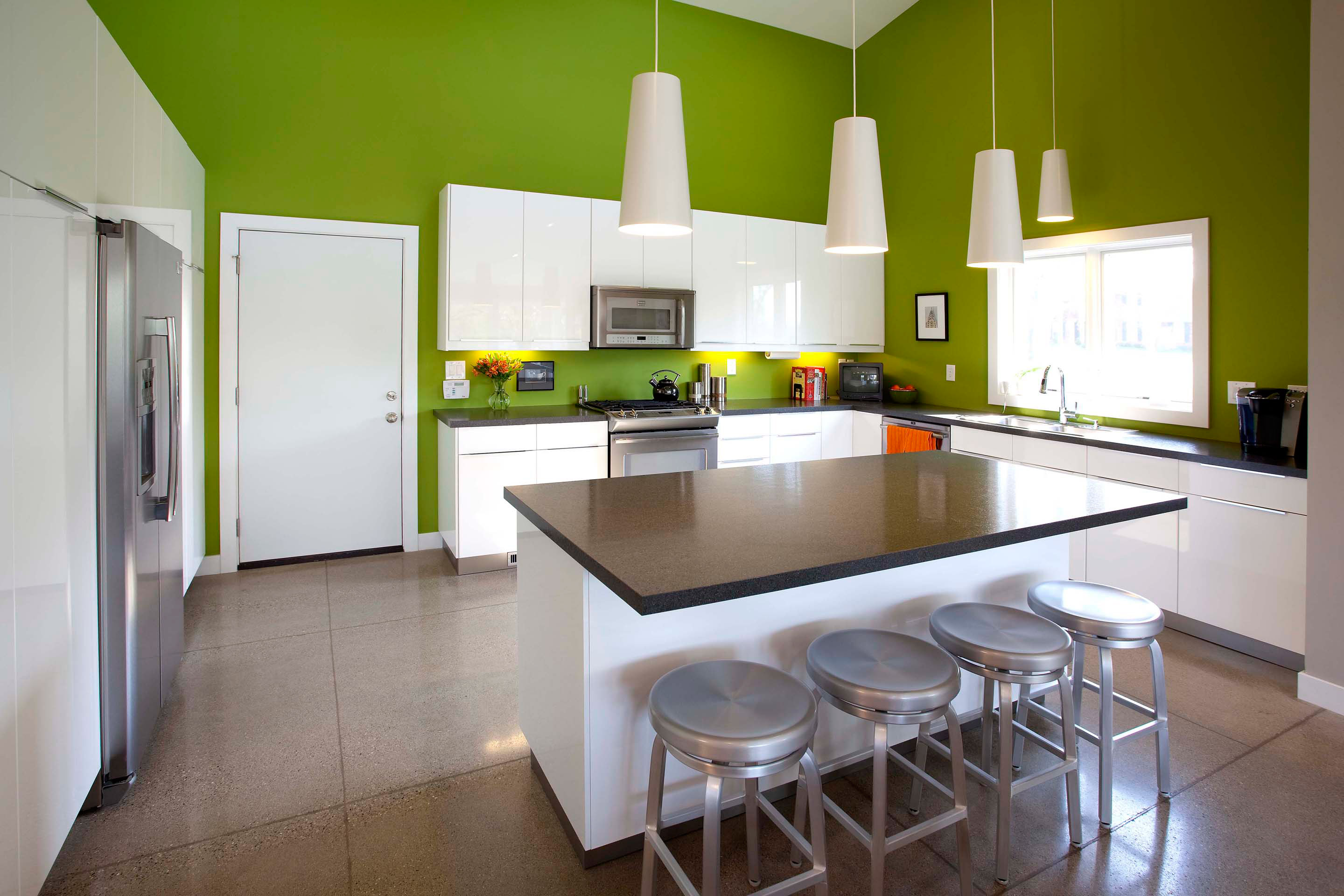 If you are a fan of color in your kitchen, this image will inspire you to do some remodeling. The large wall is painted in a bold color that brings the space alive while keeping it from being too jarring with the cabinets and white hanging lights. Its a perfect example of how white and color combinations can add style to any kitchen.
In Conclusion
If you have been searching the web for kitchen designs, these ideas may be just what you have been looking for. White is an ideal color for kitchen walls, cabinets, and islands, and will allow you the freedom to play around with color and decor in your home.
If the thought of pure white seems boring to you, home decor professionals suggest adding a pop of color with appliances or kitchen decor that can liven up your kitchen without distracting.
From the pictures that show contrast in a beautiful way to homes that allow natural light to work interior decorative wonders, these kitchens are sure to provide you with an idea for your own home. White is still in style.